Giro d'Italia stage cancelled due to bad weather for first time in 24 years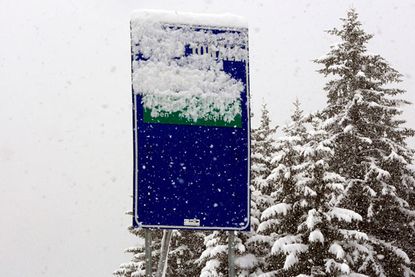 The cycling season continues to suffer from brutal spring weather, which today forced the Giro d'Italia to cancel its stage to Val Martello.
The stage had been re-routed overnight, but organiser RCS Sport said this morning that it was just too risky to continue.
"Due to adverse weather conditions and, in particular, snow," read a statement, "the stage from Ponte di Legno to Val Martello has been cancelled."
It was the first time since the Santa Caterina di Valfurva in 1989 that the organiser had to cancel a stage due to bad weather.
Usually the Grand Tours, including the Tour de France and Vuelta a España, are immune to such conditions because they run during favourable seasons. If they must, they work their way around bad areas.
In 2006, what would have been the Giro's first visit to Plan des Crones was cancelled due to snow. The organiser, instead, decided during the stage to finish below at Passo Furcia.
Heavy rain in 1995 caused an avalanche on the Colle dell'Agnello and forced the organiser to re-route to Pontechianale instead of Briançon.
The Giro's technical director, Mauro Vegni told Cycling Weekly, "I don't remember a year like this in the 20 years that I've been working on the Giro."
Bad weather already forced the cancellation of five one-day races this season. The Drôme Classic, GP Lugano, Kuurne-Brussels-Kuurne, Dwars door Drenthe and Nokere Koerse took a hit.
It is the Giro's turn now. And it may continue to suffer from bad weather.
RCS Sport already released this afternoon an abridged version of its five-star stage to Tre Cime di Lavaredo. Instead of climbing Costalunga, San Pellegrino and Giau, the riders will follow the buses' route. They will leave Silandro, pass Bolzano and Brunico for Cortina d'Ampezzo.
Weather permitting, race leader Vincenzo Nibali (Astana) and the other 169 cyclists will climb Tre Croci to Tre Cime di Lavaredo at 2,304 metres.
The Giro d'Italia's cancelled stages
1912 Pescara - Roma: Cancelled after downpour and a route error. A stage, the Tour of Lombardy course from Milan to Bergamo, was added at the end
1946 Rovigo - Trieste: Blocked at Pieris by stone throwing protesters
1956 Salerno - Frascati: Cancelled for elections
1967 Udine - Tre Cime di Lavaredo: stage results annulled, but not GC after fans pushed cyclists
1969 Trento - Malga Ciapela/Marmolada: Cancelled due to bad weather
1983 Brescia prologue: A metalworkers strike blocks stage and forced cancellation
1988 Parma - Val Bormida: Environmentalists rally stops stage at last kilometre
1989 Trento - Santa Caterina Valfurva: Cancelled due to bad weather
2001 Imperia - Sant'Anna di Vinadio: Cancelled after police raids on team hotels overnight.
2011 Genova - Livorno: Cancelled after Wouter Weylandt's death
Thank you for reading 20 articles this month* Join now for unlimited access
Enjoy your first month for just £1 / $1 / €1
*Read 5 free articles per month without a subscription
Join now for unlimited access
Try first month for just £1 / $1 / €1