Giro d'Italia will be first test of UCI's 'extreme weather protocol'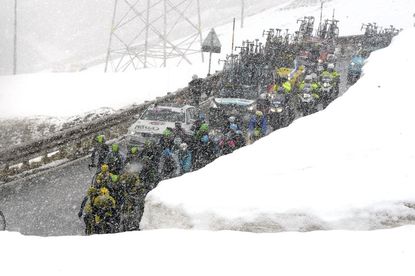 (Image credit: watson)
The Giro d'Italia, starting on Saturday May 9, will be the first race to utilise the Union Cycliste Internationale's 'extreme weather protocol', which was brought in to protect riders from racing in severe weather conditions.
According to the UCI, representatives from riders, teams and race organisers have agreed on an action plan should adverse weather strike during the Giro. Recent editions of the Giro have been affected by cold, icy and wet conditions.
"The group considers the safety and the health of riders as an absolute priority," said the UCI in a statement on Friday.
>>> UCI expects extreme weather protocol to be in place for Giro d'Italia
The protocol was drawn up after rider protests during the Tour of Oman, which saw temperatures reach 40°C and riders hit by sandstorms, and stage five of Tirreno-Adriatico, where riders completed the day in a blizzard.
In the advent of a bad weather forecast during the Giro, a meeting between key stakeholders, including race doctors, will convene on the morning of the affected stage.
"This meeting can be convened at the request of any one of the named representatives," says the UCI. "The extreme weather conditions that could lead to this meeting include: freezing rain; snow accumulation on the road; strong winds; extreme temperatures; poor visibility; or air pollution."
Those attending the meeting will then decide on an appropriate course of action, ranging from taking no action to modifying the race route, neutralising certain parts of the stage or cancelling the stage all together.
The Giro d'Italia starts with a team time trial on Saturday, May 9, and concludes three weeks later in Milan on Sunday, May 31.
Thank you for reading 20 articles this month* Join now for unlimited access
Enjoy your first month for just £1 / $1 / €1
*Read 5 free articles per month without a subscription
Join now for unlimited access
Try first month for just £1 / $1 / €1