Back to plan A for Tom Dumoulin after a disappointing day at the Giro d'Italia
The Dutchman will now look to take victory in Sunday's long time trial at the Giro d'Italia, which was his pre-race goal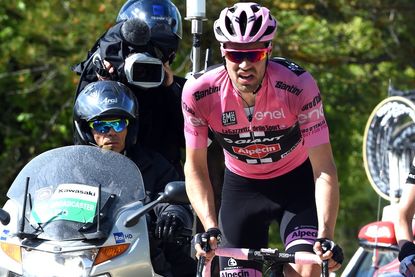 (Image credit: Watson)
Tom Dumoulin's overall hopes disappeared on one of the Giro d'Italia's lesser-known climbs through Tuscany this afternoon. Team Giant-Alpecin's Dutchman, who lost 1-07 minutes in the dust of the white gravel roads and the pink jersey, says its now back to plan A.
Alejandro Valverde (Movistar) opened fire on the gravel climb over the Alpe di Ponti at 827 metres.
>>> Five talking points from stage eight of the Giro d'Italia
His move, joined by the overall favourites, distanced Dumoulin. By the top, where dark clouds shadowed an otherwise sunny Tuscan day, Dumoulin slipped to 1-15 behind.
He managed himself on the descent to Arezzo, but the damage was done. The loss saw him slip out of the leader's pink jersey and for many followers, off the list of Giro overall hopefuls.
Dumoulin arrived to the Giant-Alpecin team bus where, still in his sweaty and dusty pink jersey, he warmed down on his bicycle next to one of his teammates.
"If you look how I look at it now, we are going back to plan A, which was winning the time trial, but right now I'm just disappointed and don't want to think about it," Dumoulin said.
"Right now, I can't say anything about tomorrow's [40.5km] time trial. I have no legs. Thirty riders were better than me today. If I have the same legs tomorrow, then I'm not winning the time trial. I hope to recover well and to be there again tomorrow."
Dumoulin, who surprised followers by nearly winning the Vuelta a España overall last September, said ahead of the Giro that he would only focus on two time trials and the Olympics later in the year. With his Apeldoorn time trial win and attack to gain 21 seconds in Thursday's Roccaraso's summit finish, plans began to change.
"On that last mountain climb two days ago, I started to believe that I maybe was better than I thought, but today it turned out to be an end. Today, was a stage for me, it was a nice climb for me normally," he said.
"A knock out? I knew that there was a big chance that there would be a day like this, but I didn't think that it'd be now, but in the real mountains. This is sooner than I thought.
"Maybe tomorrow, if I'm back in pink, I'll think differently about it. It's difficult to say now. At least 20 or 30 riders were better than I was on the climb today was so it makes no sense to go for the GC. Maybe it was just a one-day thing, but we'll see."
The big Alpine climbs in the country's north on the boarder of Austria, Switzerland and France were supposed to challenge the 25-year-old. Instead, the Alpe di Ponti climb – never before used in the Giro – could have ended his overall hopes. Dumoulin said that he felt a little bad over the last two days, but was not worried.
"Sometimes you have a bad feeling and suddenly in the final you feel great, but that wasn't the case now," he added. "I'm not sick, I had a little saddle sore the last days, but normally with a little bit of cream it should be fine, but normally that's not a reason you are running out of legs. I don't know. I just had no energy."
Thank you for reading 20 articles this month* Join now for unlimited access
Enjoy your first month for just £1 / $1 / €1
*Read 5 free articles per month without a subscription
Join now for unlimited access
Try first month for just £1 / $1 / €1