Sky rides on in Giro despite Ferrari fiasco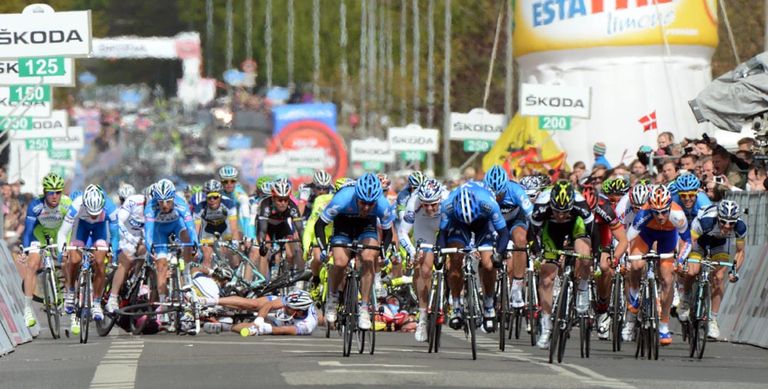 Team Sky is looking ahead despite a lost chance to win the pink and red jersey in the Giro d'Italia. Its chances came crashing down on Monday due to Italian sprinter Roberto Ferrari.
The team Androni Giocattoli rider swerved right and took down Mark Cavendish in the final 250 metres of stage three. As a result, Cavendish lost the sprint and bonus seconds needed to take the leader's pink jersey. He also lost valuable points to work towards the red points jersey.
In the wave of crashes that followed, race leader Taylor Phinney also suffered. He sprained his ankle and had to leave in an ambulance. Still in pain, he was unable to help BMC Racing defend his lead in the team time trial yesterday in Verona.
Ferrari is best known for his GP Lugano win two years ago and now, thanks to the crash. He placed ninth in the third stage in Horsens, Denmark, but the race jury relegated him to the back of the bunch afterwards.
His ride today was uneventful, but he also kept a low profile. The only time he was mentioned as part of the day's action was when he lost ground with Tyler Farrar (Garmin-Barracuda) and Thor Hushovd (BMC Racing) on the small, finishing climbs.
Mario Cipollini won 42 stages in the Giro d'Italia. He told sports newspaper La Gazzetta dello Sport, "It wasn't only incorrect, it showed a total lack of professionalism."
He and several others, including Cavendish, called for Ferrari to be pulled from the race.
"It's not my decision to be made, but I don't think he should start," Sky's Pete Kennaugh told Cycling Weekly.
"If you look at [Mark] Renshaw, he got chucked out of the [2010] Tour de France for a little head butt. That's nothing, that happens all the time, everyday.
"For nothing to happen at all to him, except for regulation on the stage, I just don't see it as justice. Something more should be done."
Cavendish was revving up and gaining speed behind Farrar in the sprint. As the two sped towards the line, Ferrari tried to squeeze between them. He clipped Cavendish's front wheel with his rear.
Arnaud Démare (FDJ-BigMat) swerved around his head and Elia Favilli (Farnese Vini) bunny hopped his body. Cavendish suffered road rash, but it could've been worse.
With the rest day and team time trial, Cavendish and Ferrari haven't had a chance to meet. This morning at the start, Cavendish didn't want anything to do with his rival. In the group, the feeling was just as cold.
"I didn't say anything to him, I never speak to him anyway," Geraint Thomas told Cycling Weekly. "I never spoke to him and I'm not going to start now, that's for sure. Whatever, the decision's been made. We just have to get on with what we got to do now."
Cavendish won today's stage to Fano, his ninth in the Giro. Asked in Italian if he talked to Ferrari, he responded, "Sì, tutto okay." He added, in English, "I spoke with him, he said sorry. So, Okay."
At the same time, he seemed to be biting his lip. He lit up when asked about the lost chance to take the pink jersey and to win the red jersey.
"What makes cycling beautiful is that there are so many variables, it's not one team versus another team, it's not one person versus another person. It's unlimited variables for the whole race. Anything can happen, that's what makes it a beautiful sport," he added.
"The big objective of mine was the maglia rossa [red] this year. There were enough sprint stages that I could've challenged the climbers for the points jersey. It would've meant some high positions throughout, but now I've lost points, I don't think the points jersey is possible.
"I'll go home from the Giro without wearing the maglia rosa. So, it's very disappointing, but that's cycling."
Giro d'Italia 2012: Latest news
Sky's Giro team time trial disappointment
Phinney's terrible day sees Giro lead slip away
Teams ready for Giro's team time trial
Phinney given all-clear after Giro crash
Ferrari should be ashamed of Giro sprint, says Cavendish
Giro remembers Wouter Weylandt
Cavendish and Thomas a winning combo, says Brailsford
Geraint Thomas narrowly misses out on Giro lead
Phinney realises Giro dream
Giro d'Italia 2012: Live coverage
Giro d'Italia 2012 live text coverage schedule
Giro d'Italia 2012: Stage reports
Stage five: Cavendish bounces back for another stage win
Stage four: Garmin-Barracuda win TTT to take lead
Stage three: Goss wins in Horsens as Cavendish and Phinney crash
Stage two: Cavendish wins in Herning
Stage one: Phinney wins time trial
Giro d'Italia 2012: Photo galleries
Stage five photo gallery
Stage four photo gallery
Stage three photo gallery
Stage two photo gallery
Stage one photo gallery
Giro d'Italia 2012: Teams and riders
Giro d'Italia 2012 start list
Giro d'Italia 2012: TV guide
Giro d'Italia 2012: British Eurosport TV schedule
Related links
Giro d'Italia 2012: The Big Preview
Cycling Weekly's Giro d'Italia section