'Leaving Team Sky was a now or never. I have a massive opportunity to perform across the year'
CW sits down with Ben Swift as he heads through his first season since leaving Team Sky, with an eye on a Monument win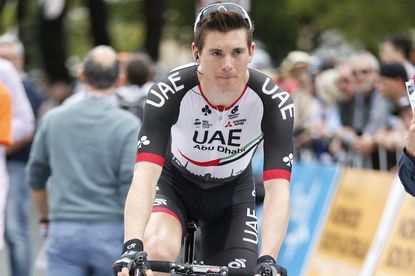 (Image credit: Yuzuru SUNADA)
Ben Swift's life changed drastically over the last few months. He left behind seven years in Team Sky to lead UAE Team Emirates and became a father. It all bodes well for Swift as he aims to win Milan-San Remo and to return to the Tour de France.
The baby-faced cyclist from Yorkshire sat back on a couch outside the Viceroy hotel in Abu Dhabi in the midst of the whirlwind to speak with Cycling Weekly.
Ahead of the Abu Dhabi Tour, the team welcomed new mega-sponsor Emirates Airlines. Swift, one of the team's stars and one of two native English speakers, was pulled left and right for local television interviews. The next day, he began supporting Rui Costa to his eventual overall win.
The 2013 world champion Costa won the summit finish stage to Jebel Hafeet and kept the lead in the flat final stage on Abu Dhabi's formula one circuit. It was a dream scenario for the UAE's first professional team to win on home soil after announcing the Emirates deal.
Swift had little time to celebrate. He received a call from his partner after the stage saying she was on her way to the hospital to give birth.
Arthur Swift, just like dad, is fast. He arrived before Swift could travel home. He has his hands full and with a smile emoticon, he wrote a few days later saying he is looking forward to race again in Paris-Nice just so he can have a full night's sleep.
Times truly have changed for Swift, who at 22-years-old in 2010, left team Katusha to join Sky in their debut year.
"Everyone in the UAE team has been good to me, but it's always going to be different to Sky because I was with my childhood friends there," Swift says.
Swift grew through the British Cycling Academy and raced the track. He had a trainee period with Barloworld in 2007, the year Geraint Thomas was in the team, and turned professional with Katusha at 21 years old.
Talk of a new British WorldTour team proved true and for 2010, Swift left his contract to ride with his home team and childhood friends. He had his chances to sprint and race the Tour de France in 2011, but the focus changed quickly to Grand Tours with impressive helpers and star leaders.
Swift found some space. He placed third in Milan-San Remo in 2014 and second in it in 2016. Opportunities were limited, though. And as he began to climb better, the team needed him more and more to help its classification leaders.
"I was so fatigued, I didn't have the power left [when the stages suited me] or I'd have to work for the leader to protect him. If I have the capability now to be in those 20-30 man groups and not have to ride for someone else, then it opens the doors up," Swift continues.
"Regrets? I don't think so. I had a lot of opportunities, but it started to change. It comes with the territory, that's what Sky was all about, and you know that. I loved it, but when this opportunity came about, it was hard to miss. It was time to go full gas for myself."
Swift recalls the cooling vests, the warm downs and training camps. Some said that going to a race after a training camp was almost a relief given how much effort that they invested in their build up.
"Sky made it much more scientific, much more attention to detail. They were innovators of the sport, everything from cooling down... Everyone looked at diets before, but the way that Sky did it so rigorously, eating this for that training or eating this for that training.
"I don't think other teams ever went into that detail. Now, it's across the board. When we wore our skin suits or aero helmets on the road, they laughed at us, but now others do it too.
"Sky learned as they were starting. When a new rider came to the team, they couldn't believe how intense the training camps were. From what you heard, the other teams just rolled around in camps!
"That definitely got tapered off over the years, in the first couple of years, it was incredible the amount of training. With the innovation that they brought to the sport, they learned that sometimes less is better."
Swift laughed because he didn't know any better at the time. He had come from British Cycling's Academy where they were training similarly. The same programme included professionals like Geraint Thomas and Ian Stannard – Sky team-mates, and childhood friends, left behind.
He began looking with his agent in the summer of 2016 for a new team. Several teams were interested given his placings and WorldTour points, but UAE Team Emirates – or Lampre-Merida as it was then – kept calling back to convince Swift.
The opportunity to lead more, and to select and target specific stages from a Tour de France road book was too much to pass.
"It's looking through the road book and picking the stages for myself. I'm able to plan my race days," adds Swift.
"It was a now or never. I have a massive opportunity to perform across the year."
'They listen to what I want."
Swift debuted in Sky's black colours in the Tour Down Under in 2010. Greg Henderson took the team's first win in the opening criterium.
He helped in those early wins and then made his mark. In Sky's long list of stage race titles – from the Tour de France to Paris-Nice to the Critérium du Dauphiné – Swift claimed the first one in the 2010 Tour de Picardie. He also took stage victories in the Tour Down Under, the Tour of California, the Tour de Romandie, Poland and País Vasco.
As Swift began to climb better, he helped his Sky team-mates defend their classification leads and limited his chances to only a handful of days.
In Sky, Swift's one big appointment of the season became Milan-San Remo. He collected points everywhere else in 2016, for example, but his second place on Via Roma behind Arnaud Démare (FDJ) is what 'Swifty' supporters remember most.
The UAE Team Emirates team may seem an unlikely match, but with its Italian structure, after 20-plus years racing as Lampre, it knows races like Milan-San Remo well. That extends to manager Giuseppe Saronni. In addition to the Giro d'Italia and the Worlds in Goodwood, he won on San Remo's Via Roma in 1983.
"They helped me focus on it and on the surrounding races, giving me the opportunity. They listen to what I want and then make decisions. I was able to do that in the past, but sometimes, it was spur of the moment, being pulled off to a race. Now we have a plan and we are sticking to it," Swift says.
"The emphasis is on San Remo, but I can name 20 or 30 guys who have that on their list too. We are not under any illusions. I don't like making a big song and dance, saying, 'That's the one I want to target.' You'll never hear me say, 'That's the one I'm going to win.'
"That aside, you have to have goals and ambitions. For me, I've proved in the past that Milan-San Remo is a race that suits me. It's just a logical race that I can target. It opens up many other opportunities when I start to build for that race."
Swift is racing in Paris-Nice ahead of Milan-San Remo and continuing to País Vasco and to the Amstel Gold Race. The Amstel Gold Race, with a hard parcours and new flat finish could be one of those opportunities.
He says that he does not want to think too far ahead, but "with 90 per cent certainty" he will race the 2017 Tour de France. It would be the first time in six years, since 2011, for Swift. Even in 2014, he was not there when the Sheffield stage finished eight kilometres from his door step.
UAE Team Emirates has South African star Louis Meintjes, who placed eighth in 2016, to support. Swift explains that it will be much different, though, as the team will not be lined out on the front each day for its leader as Sky would for Chris Froome. It leaves Swift to thumb through the road book and pinpoint days.
"I haven't looked in detail, but I heard that there are many intermediate transitional stages this year. There could be many opportunities."
Opportunities ahead
Swift puts his hand on his knee. It still gives him a few "niggles" occasionally and reminds him how he almost fractured it last year in the Tour de Romandie. Doctors say that will pass in the next year.
He pays more attention to his shoulders and if needed, he visits British Cycling's physiotherapists for help.
"I hope I won't need that any more," he says. "I've done both of my shoulders in twice. It's a little genetic in that my shoulders aren't completely round, but more oval that we've seen on the MRIs. If I crash on the wrong spot at high speeds, my shoulder dislocates straight out the back and does a lot of damage on the way out."
The Barloworld period passed and so did the years in Katusha and Sky. Even though he has been professional for eight years, he is still only 29. "I'm coming into my prime," he adds. He signed a two-year contract with Saronni and UAE to make the most of the period.
"The years are going by fast now, they tick by, and you have to focus on the now, but also with an eye on the next objective," he adds.
"For the next couple of years, I'm going to be targeting those harder stages and those reduced bunch sprints. I may not be as fast as I was when I was younger, as I used to win bunch sprints in the past."
At the 2012 worlds in Melbourne, Swift won the scratch gold medal and with Geraint Thomas, took a Madison silver medal.
"My training changed some without being on the track, but I've substituted that with climbing, looking for opportunities in harder stages," he continues.
"That's the direction that I need to keep pushing and pursuing."
Thank you for reading 20 articles this month* Join now for unlimited access
Enjoy your first month for just £1 / $1 / €1
*Read 5 free articles per month without a subscription
Join now for unlimited access
Try first month for just £1 / $1 / €1