Mark Cavendish on Tour de France glory, his Olympic near-miss, and why second place means nothing
Ahead of his 2017 season opener at the Dubai Tour next week, Cycling Weekly sat down with Mark Cavendish to look back over his remarkable 2016 season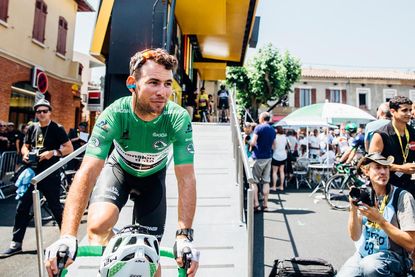 (Image credit: Daniel Gould)
Get The Leadout Newsletter
The latest race content, interviews, features, reviews and expert buying guides, direct to your inbox!
Thank you for signing up to The Pick. You will receive a verification email shortly.
There was a problem. Please refresh the page and try again.
Despite coming to the end of the most intense, gruelling, and arguably most ambitious season in his 10 years as a professional, Mark Cavendish managed just a few days' holiday in Abu Dhabi with his family before starting his preparations for the 2017 season.
Unlike the rest of the peloton who were enjoying their off-season rest from October, Cavendish was still racing up until the end of November at the London and Ghent Six Days, the latter he won with Bradley Wiggins, before he headed straight to South Africa for Dimension Data's training camp. He squeezed in a couple of days after to lie in the sunshine before he was back to the training grind. It was the sort of packed schedule that summed up the Manxman's 2016 season: unrelenting.
The 31-year-old combined racing on the track and the road in 2016 for the first time since 2008, winning four stages at the Tour de France and wearing the yellow jersey for the first time in his career, securing his first Olympic medal with silver in the omnium in Rio, winning a track world title and finishing second at the Road World Championships in Qatar.
Such were his aims he skipped from winning the Tour of Qatar to racing at the Track World Championships in London, riding Paris-Roubaix and flying back to Manchester to train in the velodrome. While his sprint rivals were readying themselves for the Tour, Cavendish was racing an Olympic qualification omnium in Lithuania.
"It is definitely the one [season] I've worked hardest at, 100 per cent," Cavendish tells Cycling Weekly, as he reflects back on the year. "I put detail into everything I do, but the amount of actually having to structure my life; I never did everything so to the book as I did this year.
"It's one thing to ride the road and a year later to ride the track, but to ride up the Tourmalet [in the Tour de France] and then three weeks later to be going sub-13 [seconds] in a flying lap on the track — there were times when I didn't think I'd be able to do it."
Riders mixing track and road are far from unusual, but to set such big goals in each discipline during the same 12-month period was ambitious and unconventional to say the least. Notably Cavendish's biggest rival in Rio, Sky's Elia Viviani — who beat him to gold — wound down his road racing after the Giro d'Italia in May.
"It was the most consuming thing I've ever done in my career," Cavendish continues.
"Physically I could make it work but mentally I never switched off. Having to keep the muscle mass for the track but really drive down the weight — I was my skinniest ever in 2012 for the [London] Olympics but I watched my diet more this year just because it was so important.
"To get through the Tour thinking about the Olympics; consuming is the only word I can use."
Triple measures
Last January when Cavendish announced his 2016 triple targets of winning Olympic gold, the rainbow jersey on the road and wearing the maillot jaune, there were plenty who dismissed him for taking on too much, saying he was past his best and that it wasn't possible.
Yet he credits having the "best people" around him for believing in his ambitions and supporting him fully all year when others didn't. Former British Cycling technical director Shane Sutton was one of the believers who backed his return to the track along with Rod Ellingworth, who he worked with during the Olympics, Dimension Data and his family.
And while the silver medals in Rio and Qatar may not have been the results Cavendish wanted, now he seems content in what he achieved. As he points out, he's one of only a handful of riders who could have attempted what he did in 2016.
"I've [now] had time to reflect. I always got asked about this season as it was going on and I didn't really know because I still had stuff to do, I had the Worlds up to October and then I had the track after that and Ghent and I never really sat back and looked," he says.
"I'm pretty happy. Obviously I like to win everything I do and I had a fair few seconds that I would have liked to convert to firsts, but it was great.
"I couldn't have done any more, that's why it's disappointing not to win. I did the best I could."
In the omnium he says he "made mistakes" that cost him the gold medal — one of which was getting disqualified in the elimination race for riding on the blue band at the bottom of the track. "The omnium is about being consistent over six events and there was someone [Viviani] who was more consistent than me. And was therefore obviously better."
But it's the defeat in the Worlds, however, where Cavendish finished second to Peter Sagan, that hurts the most. With a few hundred metres to go, Sagan went to the right of the road and Cavendish went left yet got held up behind Australia's Michael Matthews forcing him to stall and restart his sprint. Despite doing everything else exactly as planned all race, it was the split second Sagan needed to get away.
"I still believe if I did the race 1,000 times and I did exactly the same as I did I should win 1,000 out of 1,000 times. I still can't work out what happened," he says, before pausing.
For a rider with an ability to exactly recall a sprint finish down to the millisecond, this is one result he admits will linger in his mind for a while.
"Peter's smarter than me that he's seen something I [didn't]… but never should the right-hand side of the road open, never the left-hand side should close, so for the two to happen," he says.
"I think I'm quite good at analysing how a race could go, and did go, and I can't, I still can't understand… it wasn't meant to be. At least we've got a good world champion."
A year of firsts
It's the Tour de France that is Cavendish's clear highlight of the year. Four stage wins to take him a career total of 30, four away from Eddy Merckx's all-time record, plus a day in the yellow jersey, made it his most successful edition of the race for years.
While his stint in yellow may have only lasted a day he calls wearing the jersey "an absolute honour. It's one of, if not the most, iconic symbols in sport. What other sport is there something that represents something as historically as the yellow jersey?" It's that plus the rainbow jersey he won in Copenhagen in 2011 he has displayed at home.
Reunited with his old HTC-Highroad team-mates, Mark Renshaw and Bernie Eisel, it felt like a vintage Cavendish performance, a return to his early years in the race when he swept up stage wins for fun. Expectations had risen so high each July, the one or two stage wins he had the last few years remarkably didn't feel like enough.
It was the way he won that also made it more impressive. Having pulled out of the Tour of Slovenia in June with illness, he then finished second to Adam Blythe in the National Championships the weekend before stage one. His formbook against the likes of Marcel Kittel, André Greipel and Sagan hadn't always been in his favour the last few seasons, particularly at the Tour, and once you add in the amount of road racing he'd forgone due to the track, few would have predicted such a dominant display.
Riding on the track again, many have commented, is what made the difference. But it was racing on the track specifically that he credits with giving him an extra edge.
"I learnt to race again," he says. "There's been a thing made about riding the track helped — definitely it did. But I believe physically the stuff I did on the track I can replicate on the road anyway and I will do. I think it was learning to race again.
"It's one man per nation on the track; you rely on your instincts, everything happens in such split seconds that your speed, your distance, the awareness of all that is heightened and you learn to know exactly what you can do again. That definitely helped."
He also credits Dimension Data, which he joined at the start of 2016 from Etixx-Quick Step for giving him a new outlook at this point in his career.
Unlike at Etixx, where Cavendish had an entire sprint train built around him, at Dimension Data the lead-out is less dominant than the one he had before for Kittel and Greipel enjoy. Perhaps surprisingly though, he says that's stopped him getting complacent, referring back to the early days of his career when he made a name for himself by racing alone.
Watch: Tour de France essential guide
"I was at Quick Step for three years and I had the most phenomenal bike riders, the strongest guys in cycling, so I didn't have to think for myself, I knew I could just follow them. Most of the time it was me that let the team down," he says.
"Knowing you have to plan things a bit more, you stop being lazy really. If you've got to plan you plan right. If you don't have to plan because people do things for you, you let things slip."
Even little things like Dimension Data's coach Mattia Michelus providing him with a graph of the power output required to survive the time cut on the tough days in the mountains at the Tour, something he'd never had before, made a difference.
"It was something so simple, but you knew if they were doing this speed in front I just had to ride at this power and make it," Cavendish continues.
Similarly, riding in support of Qhubeka — a cause that provides bikes to young people in Africa to help improve communities — he says has given him extra motivation. "It's not some media spiel we give, everyone really believes in Qhubeka," he says. "It doesn't change your perception, it enhances how you feel about what you're doing."
Planning priorities
The 2017 season is a return to the more 'ordinary' for Cavendish, with the whole year built around the Tour de France in July. With nine potential stages on the agenda — including the Champs-Elysées where Cavendish hasn't won since 2012 — adding to his 30 Tour victories is his main priority.
"Realistically there's seven sprint days really, which is more than normal. I'm looking forward to giving it my best shot," he says.
"It definitely provides more opportunities. Then again it could be hard when you have whole teams built around the sprint. We're not going to go with a full sprint train so you might have team that builds a full sprint train that makes your job harder."
Because of the delay to his 2017 preparations, any other season targets are still undecided. Riding Milan-San Remo is a definite, though whether he will be challenging for the win again or not will be a decision made after he's tested his form riding. Similarly, he's likely to ride Paris-Roubaix again in support of team-mate Edvald Boassan Hagen, but the Giro or the Vuelta a España are still to be added to the agenda.
Long term, he hasn't ruled out competing at the Tokyo Games in 2020, though gives a wry laugh when asked about it. "It's not in my mind right now no," he says, with a smile.
"I'm not saying that I'm never going to think about it, but if we do an interview every month for the next year I won't be thinking about the Olympic Games. I can promise you that."
Similarly, the Road World Championships in Yorkshire in 2019 are not yet on his radar — he admits he has to study the parcours for Norway in September this year to see what's possible first.
"The last thing I want to do though is go into 2017 kind of just going through the motions. I've learnt this year that having actual targets help me stay motivated consistently, no matter how hard it made it, having targets was still a big thing," he says.
"Although I've been pro 11, 12 years that'll be something I'll adapt now and make the norm, setting absolute and constant targets throughout the year."
But where do you go if you've just had a season like 2016? What keeps a rider like Cavendish, who's achieved all he has so far in his career, motivated to go and strive for more?
"Just win, that's it," he says simply. "Peta [Cavendish's wife] found out a few years ago, and as I found out quite a bit this year, it's no good just being second, it means nothing.
"It's better to win."
Thank you for reading 20 articles this month* Join now for unlimited access
Enjoy your first month for just £1 / $1 / €1
*Read 5 free articles per month without a subscription
Join now for unlimited access
Try first month for just £1 / $1 / €1
Get The Leadout Newsletter
The latest race content, interviews, features, reviews and expert buying guides, direct to your inbox!