Jason Kenny: I thought the keirin official was a bit trigger happy
The six-time gold medallist says he's looking forward to getting back to reality and walking the dogs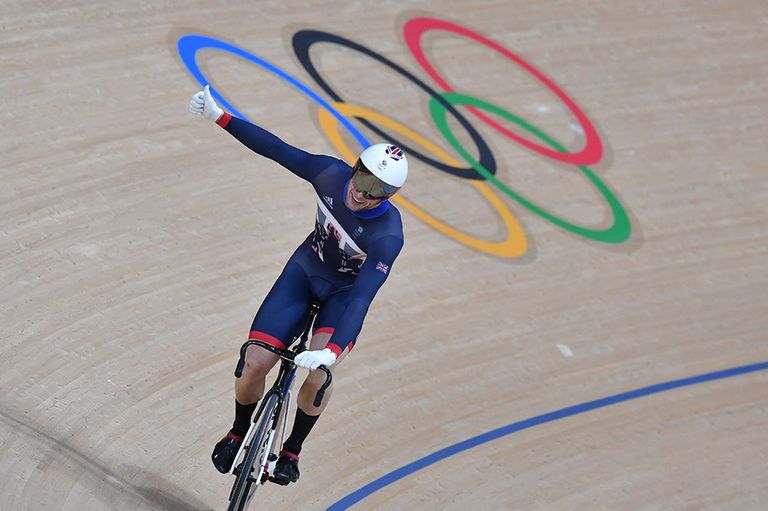 (Image credit: Watson)
Jason Kenny says he thought the race official in the men's keirin final "was a bit trigger happy" after the race was brought to a halt twice.
The official with the gun on the side of the track fired on two occasions after deeming that the riders had passed the rear wheel of the derny pace bike before it had left the track.
>>> Laura Trott and Jason Kenny, Britain's golden couple, bring the house down in Rio
But replays showed it was too close to call between Kenny and Malaysian rider Azizulhasni Awang as to who had overtaken the bike first, and so all riders were allowed to restart the race.
It happened again though, with German rider Joachim Eilers looking as though he clearly passed the derny as he accelerated at the top of the track. The false start was called, but once again no riders were disqualified and the race restarted with a full compliment or riders.
Kenny, who came close to being disqualified according to his coach Iain Dyer, says that it was the right decision to let all the riders continue, describing the rules over the situation as "vague".
"I thought it was a bit trigger happy," Kenny said. "It's good that no one was taken out of the race, I have a feeling we would have finished in pretty similar placings had they just let us go in the first race.
"Usually when they shoot the gun someone gets disqualified, but it was very tight between us and that rule is very vague. Ultimately, the right decision was made."
>>> Laura Trott on her dominant omnium performance: 'I didn't even feel that good'
28-year-old Kenny went on to win the race, sealing his position as Britain's joint most successful Olympian of all-time with his old teammate Sir Chris Hoy, with six golds and one silver medal.
Between he and his fiancée Laura Trott, the pair won five gold medals at the Rio Games, with Trott becoming the most successful female British athlete of all time with her fourth gold win in the omnium.
But despite being described as "the golden couple" of the Olympics, Kenny says he's looking forward to getting back to reality at home with his dogs.
"It would be nice to get back to a bit of normality, if that's possible. Obviously I'd love her [Laura] to bits even if she was rubbish, but she's not.
"She gets a bit stressed to be fair. She worries enough for both of us so I can stay relaxed. She loves a good cry as well.
"[I'll] probably take the dogs for a walk [when I get home]. We live in the middle of nowhere so it suits me down to the ground. I can walk for miles and not see a soul.
"I'm home as soon as possible. I love the Olympics and being in the village, but after your events are over it feels a bit confined, like a prison."
Kenny is seen much less in the limelight than some of the other successful cycling Olympians like Hoy or Sir Bradley Wiggins, and is hoping that life doesn't have too much of a drastic change after his success at the Games.
"I hope [life doesn't change]. I like my life," Kenny addded. "It used to frustrate me a little bit with the guys around me getting cars and bits and pieces like that, but I like to flounder around doing what I like.
"It's not like I'm starving to death. We're really well funded so we can do what we love."
Richard began working with Cycling Weekly in 2013 alongside the then web editor, Nigel Wynn. Taking over as digital editor or Cycling Weekly and mbr in 2014, Richard coordinates site content and strategy with the team.