Quick times in Hemel Hempstead's weekend time trials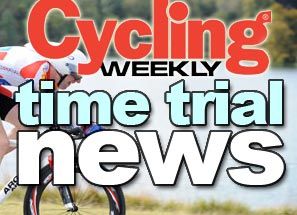 Hemel Hempstead CC hosted two successful events at the weekend with quick times in both the 10 and 25 mile trials.
The 25 was won by 2010 Junior 25 mile Champion Conor Dunne of Belgian team, VL Technics-Abrutriek.
It was his first time trial of the year and he took part in this race as a warm-up for the Irish road race and time trial Championships next weekend. He clocked a time of 51:31 - believed to be the second fastest ever recorded on the track despite the blustery conditions.
The only man to ever beat this time was Canadian pro, Matt Anand, who clocked 51:09 in the Student Championships back in 1998.
Former Student Champion, Arctic SRAM RT's Danny Axford, finished second. Axford was 1:30 down on Dunne and Ross Clarke of Team Milton Keynes was another 42 seconds back.
Twenty four hours earlier wind lashed across the course, but it didn't seem to have a negative effect on the riders as the course record was broken in the 10 mile event.
Nicholas Hutchings of CS Grupetto completed in a superb 18:49 whilst many other riders recorded personal bests. Steve Golla, riding for High Wycombe CC, came second with 19:16 and Gavin Atkins of host club Hemel Hempstead CC made a 19:22.
Sleaford Wheelers' 50 mile trial, held in Silk Willoughby, Lincolnshire, was won by one of their own when Jim Boyle put down a 1:52:24.
Second place was hotly contested with Nottingham Clarion's Simon Dale nicking it by a second. His 1:54:09 was enough to push David Watson of Coventry RC into third.
Andy Bason (Team Pedal Revolution.co.uk) was victorious in the Mid Shropshire Wheelers 10 mile trial in Waters Upton. His 21:36 was enough to fend off Steve York (Wrekinsport CC) and junior Jordan Bason (Fred Williams).
The Hampshire RC Open 10 was won by Peter Younghusband of TRI UK Gatorade with the 47-year-old rolling back the years to put in a time of 20:53.
Oxford City RC's Richard Harrison finished second with 21:14 and Andy Langdown of Hampshire RC took third.
James Tucker was celebrating at the Matlock CC midweek 10 with the South Pennine RC rider setting a new course record of 20:23.
Gunnar Gronlund of RST-Trigon was next in the results with a 20:43 and Peter Colledge's 22:11 was enough to take third.
The Fred Gratton Memorial 25 mile TT, hosted by Janus Road Club, saw veteran Simon Bridge (Manchester Wheelers Club) come in first with a 53:02.
Two-time British track champion, Sarah Storey of For Viored, came in second with a 56:37 and the podium was completed by Nigel Wood of Wills Wheels CC.
Chelmer CC's 25 mile trial in Chelmsford resulted in East Grinstead CC's Steve Dennis riding to victory. He was more than three minutes quicker than nearest competitors, PM Racing's Gary Record and Tim Bayley of Arctic SRAM RT, who were joint second with 56:39.
And District Wheeler's open 25 TT was won by Team Corridori - Specialized's Elliot Porter with a time of 53:39. Nick Dwyer of Lewes Wanderers CC and Andrew Meilak of Data Team Allstars completed the top three.
Scott Cousins was quickest in the Maldon and District 10 mile trial held in Steeple, Essex. Cousins, riding for the host team, completed in 21:57 with Essex Roads Club's Colin Ward in second and Hugh Vivian of Finsbury Park CC third.
Related links
Time trial news section
Thank you for reading 10 articles this month* Join now for unlimited access
Enjoy your first month for just £1 / $1 / €1
*Read 5 free articles per month without a subscription
Join now for unlimited access
Try first month for just £1 / $1 / €1
Snowdon Sports is a long-established independent sports news agency, which supplies editorial to a range of media outlets - such as Cycling Weekly - as well as sports governing bodies. Snowdon Sports often covers results at Cycling Time Trials events in the UK and has long been a source of information and imagery to Cycling Weekly.