Seven riders who celebrated too early and lost the race (videos)
Celebrate too early and you risk not only losing the race, but making a fool of yourself on national television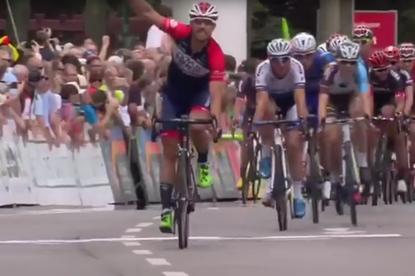 It's one of the most embarrassing things you can do as a sportsman - celebrating a victory too early only to be pipped at the post and look a fool.
Mountain biker turned road racer Martin Gluth had the misfortune to become the latest rider to humiliate themselves on television by surging away from the pack on the penultimate lap and raising his arms.
Take a look at Gluth's moment of fame and a few other gems we've dug out of the vaults.
Martin Gluth - German National Champioships 2016
https://www.youtube.com/watch?v=I7ppvkQYzsU
Gluth must have sensed something was amiss when he sped away from a peloton containing Marcel Kittel and Andre Greipel and crossed the line unchallenged.
But no, he raised his arms, stopped his cycling computer and only realised when the rider at the front of the peloton spun past him and did the classic facepalm.
Still, his team styled it out, praising the rider on Facebook for attacking on the penultimate lap. Good try guys.
Jamie Wilkins - Via Roma Twilight Criterium 2016
Granted, it's not the biggest race in the world, but you still can't celebrate too early at Cirencester's Via Roma Twilight Criterium
Amateur rider Jamie Wilkins did just that, punching the air as he approached the finish line. Unfortunately he was on camera and a chap came up on the outside and pipped him to the line.
Erik Zabel - Milan-San Remo 2004
https://youtu.be/C8UVooIqea0?t=2m24s
Probably the most costly early celebrations in recent years saw Oscar Freire pip Erik Zabel to the Milan-San Remo title in 2004 by millimetres.
Zabel had already won four San Remo titles by that point in his career, but his mistake handed the Spaniard the first of his three. He went on to win the World Championships that season as well, beating Zabel once more.
Eloy Teruel - 2014 Tour of California
https://www.youtube.com/watch?v=_EHfSlutXR0
Eloy Teruel gave it the works when he thought he'd won stage seven of the 2014 Tour of California, despite the fact that the bell was loudly ringing to signify the start of the last lap.
Peter Sagan won the stage when it completed the last lap, with Teruel finishing down in 56th.
Morgan Kniesky - 2015 Tour Series
https://youtu.be/wFk_Z6ZiWkw?t=6m19s
Early celebrations came to British shores in last year's Pearl Izumi Tour Series, when Raleigh GAC rider Morgan Kneisky made this costly mistake.
It's amazing that he didn't see Jon Mould in his wheel as he took the final bend. He only looked over his left shoulder as Mould hid behind his right. At least Kniesky had the grace to bury he head in his hands as soon as he realised what he had done.
Adam Toupalik - U23 Cyclocross World Championships 2016
https://www.youtube.com/watch?v=aHYX3_Qt7lk
Adam Toupalik could have become the U23 cyclocross world champion in 2016 had he not raised his arms too early. He pretty much stopped after completing the penultimate lap as the others carried on past him.
The Czech rider managed to get back into the race and contest the final sprint, but he couldn't hold off Eli Iserbyt.
This guy
https://www.youtube.com/watch?v=2UD0QtUeXbI
To be fair, this guy probably would have won had he not fallen off so spectacularly as he punched the air.
Honourable mention: Simon Clarke - Giro d'Italia 2015
https://youtu.be/c459__X-xOU?t=2m1s
We can't include this as a 'celebrating too early video' because Simon Clarke celebrated too late. Also, it's not clear why he was celebrating either.
Clarke argued that he was happy to have taken the Giro d'Italia's pink jersey, but the celebration and dejection immediately after made it seem like he hadn't seen Davide Formolo win 30 seconds before.
The jury is out on this one...you decide.
Thank you for reading 20 articles this month* Join now for unlimited access
Enjoy your first month for just £1 / $1 / €1
*Read 5 free articles per month without a subscription
Join now for unlimited access
Try first month for just £1 / $1 / €1