10 things to say to make you sound like a Tour de France expert
You don't need to be a Tour de France expert to join in on the fun, just use one of these handy phrases and people will think you know your onions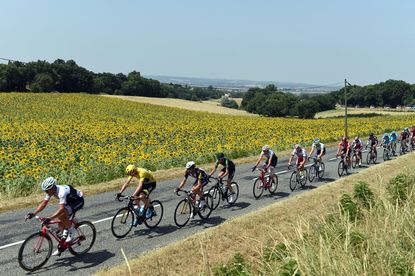 (Image credit: Watson)
Planning to tune in to the Tour de France this year but have no knowledge of cycling? That's not a problem.
Firstly, just by watching the racing you'll pick up the nuances of professional cycling, learn a bit of history from the commentators and see some lovely French countryside.
But if you want to join in with the cycling conversations we've got a handy list of phrases you can trot out at any given time. Print them off and keep them in your pocket just in case you find yourself watching the race over the next three weeks.
'Chapeau'
An easy one to start you with, if you're not confident on going any deeper. "Chapeau" is used in the cycling industry when someone does something good.
It's great, because you can use it at literally any time.
"He grabbed that bag of food well...chapeau!"
"Chapeau to Mark Cavendish for finishing fifth on that stage."
'It's inevitable that Peter Sagan will win the green jersey again'
We've seen Peter Sagan in the green jersey for much of the last four years at the Tour de France, and it'll probably happen again this year.
If you don't know who Peter Sagan is, you'll be able to spot him in the white jersey with the rainbow stripes, denoting that he's the current world champion.
If he's not wearing that then he'll be in the green jersey...that will be in the final week. Fact.
'Not even Richard Virenque would have gone from that far out'
Referencing a cyclist from yesteryear is always a good way to stand out from a crowd who have only recently gotten into the sport.
Virenque is well known for winning seven King of the Mountains titles at the Tour over his career, as well as going out on long, banzai attacks all on his own.
We'll probably see quite a few lone attacks this year, but it's all about timing it right. If someone goes on their own from 60km out, wheel out this line.
This line is usually always followed by "well, he did get popped for doping after all..."
'This stage has got Thomas Voeckler written all over it'
His star is waning a bit now, but Tommy Voeckler still has a legendary status in the peloton. Despite never having raced on a particularly good team, Voeckler has won four stages of the Tour in his career and has looked like winning countless others.
Like Virenque, Voeckler loves a lone attack. They don't work very well nowadays, but he's always a threat. This phrase is particularly good because it can be used during almost any stage, be it flat, hilly or mountainous.
'Of course, when the race began in 1903 riders had to fix their own bikes'
These days, mechanical problems are sorted by unstrapping a spare bike from the roof of a support car and handing it to the rider. Sometimes you'll see mechanics hanging out of car windows, tinkering with the bike as the rider still sits on it.
But back in the good old days of the first Tour de France, the riders would have to be semi-professional welders in order to fix any problems they had with their frame. There wasn't any support and it was against the rules to accept any help.
'It's a real shame they only climb Alpe d'Huez in alternate years'
Other than the Champs-Élysées in Paris, Alpe d'Huez is probably the most famous location on the Tour de France route. To avoid everyone getting bored of it, race organisers ASO only visit the 21 hairpins in the Alps every other year, apart from the odd occasion.
Thibaut Pinot won the stage up the Alpe last year, but Dutch Corner will be empty this year as the route takes an alternative route through the Alps.
'Can you believe the Col du Tourmalet has only hosted two stage finishes?'
After Alpe d'Huez, the Col du Tourmalet is probably the second most famous mountain in the race. It's been used 84 times in Tour de France history - more than any other mountain in the country - but it's only been used as a summit finish twice.
The last time, in 2010, gave us one of the most memorable moments in recent Tour history, where Andy Schleck beat Alberto Contador in a fascinating showdown. Schleck needed to make up lost time on the Spaniard and launched numerous attacks, but ultimately couldn't pull away and had to settle for a narrow stage win.
'Remember when Lance Armstrong cracked on Joux Plane?'
This is a tricky one, given that Lance Armstrong doesn't technically exist in a substantial part of Tour de France history.
But back when Armstrong did exist, he won a couple of the races and looked unbeatable for virtually the entire time.
But the Col de la Joux Plane, which features as the final mountain climb this year, nearly beat him in 2000, after which he reportedly said it was "the hardest day of my life – on a bike".
'I think this could be Armindo Fonseca's breakout year'
This one works with any random French rider, but why not pick Monsieur Fonseca?
Namechecking a random French rider is always a good tactic, because it makes you look like you've done your homework and it's unlikely you'll come up against many people who will argue with your assertions about them...
'I think you'll find it's pronounced Tsgabu Grmay'
I've no idea how it's pronounced and there won't be many people who do know. But everyone loves a person who corrects their pronunciation and instantly gives them more respect.
Thank you for reading 10 articles this month* Join now for unlimited access
Enjoy your first month for just £1 / $1 / €1
*Read 5 free articles per month without a subscription
Join now for unlimited access
Try first month for just £1 / $1 / €1
Stuart Clarke is a News Associates trained journalist who has worked for the likes of the British Olympic Associate, British Rowing and the England and Wales Cricket Board, and of course Cycling Weekly. His work at Cycling Weekly has focused upon professional racing, following the World Tour races and its characters.