Andy Schleck out of the Tour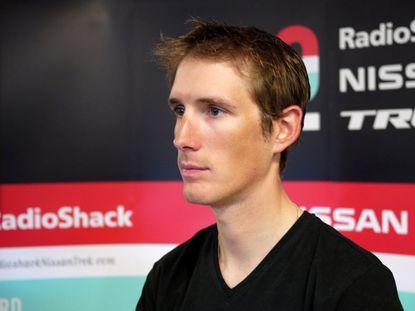 Andy Schleck will miss this year's Tour de France after breaking his pelvis at the Criterium du Dauphine, he confirmed at a press conference this afternoon.
The RadioShack-Nissan rider suffered the injury when he crashed during the fourth stage time trial in the French race on June 7.
Initially the injuries were thought to be superficial and Schleck continued to ride before withdrawing on stage six.
However an MRI scan yesterday revealed the full extent of the injury which will mean Schleck will be out for between four and six weeks.
"I can promise you one thing, I'm 27. I have a lot of years in front of me," Schleck said. "I believe after this I will come back stronger."
His absence means one less rival for Britain's Bradley Wiggins who's superb Dauphine form will mean he lines up as favourite for the Tour when it starts in Liege on June 30.
"I don't know if I would stand in yellow in Paris, but I was going there to try and achieve that goal," Schleck added. "But whether it's Wiggins or my brother Frank or anyone else who wins, I
won't stand there saying, 'you're lucky I wasn't there.'"
He revealed that he will now target the Vuelta a Espana which kicks off on August 18, as well as the Olympic Games on July 28 and World Championships on September 23.
Schleck should reprise his rivalry with Alberto Contador at the Vuelta when the Spaniard makes his return from suspension on August 5.
N.B. This article was amended on June 15
Related links
Schleck's Tour build-up falters with Dauphine TT crash
Bruyneel disappointed with Radioshack's lack of results
Andy Schleck receives 2010 Tour de France yellow jersey
Thank you for reading 20 articles this month* Join now for unlimited access
Enjoy your first month for just £1 / $1 / €1
*Read 5 free articles per month without a subscription
Join now for unlimited access
Try first month for just £1 / $1 / €1