Armstrong defiant in wake of latest revelations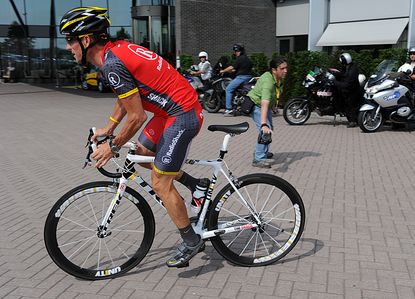 Lance Armstrong has once again denied the allegations made by Floyd Landis that systematic doping took place when he was riding for the US Postal team.
In today's Wall Street Journal Landis is quoted making specific allegations against Armstrong, George Hincapie and José Luis Rubiera dating back to the 2004 Tour de France. They come from an interview conducted before the Food and Drug Administration's Office of Criminal Investigations began their probe.
In the interview Landis also goes in to detail about the off-the-bike culture he experienced while at the team, as riders partied with strippers and used recreational drugs during training camps in Austin, Texas. Throughout, Landis claims that Armstrong was the ringleader.
Armstrong's RadioShack team is one of the few at this year's Tour de France that hasn't had a press conference in the two days before the race start. Now the seven-time winner of the Tour said on his website that the article is simply repeating discredited claims from someone with an axe to grind, and printed now for maximum publicity.
The Wall Street Journal article is similar to that published by ESPN when the allegations first came out, although the paper claims that three other former US Postal riders have confirmed doping took place on the team.
FDA Special Agent Jeff Novitzky is leading the investigation in to whether or not the US Postal team defrauded its sponsors by doping to win bike races. Novitzky was the man who lead the investigation in to the Bay Area Laboratory Cooperative (BALCO) that exposed steriod use in US athletics and lead to Olympic champion Marion Jones being imprisoned.
Landis is believed to be cooperating with the investigation as are others. Anyone questioned in the investigation is not allowed to discuss the details with the media, meaning no knew details are expected until the investigation is completed, something that could take years.
Armstrong is due to open his Tour de France campaign at 19.30hrs (local time) in Rotterdam today. He goes off third from last, ahead of Fabian Cancellara and Alberto Contador.
Thank you for reading 20 articles this month* Join now for unlimited access
Enjoy your first month for just £1 / $1 / €1
*Read 5 free articles per month without a subscription
Join now for unlimited access
Try first month for just £1 / $1 / €1