Armstrong hires defence lawyer in federal doping probe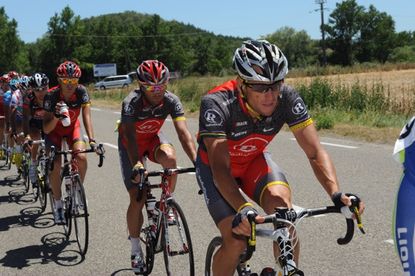 Lance Armstrong has employed the services of Los Angeles defence attorney Bryan D Daly to represent him in the current federal investigation into alleged doping practices within the Texan's cycling teams.
The New York Daily News reported on Wednesday night that it had contacted Daly to confirm his involvement with Armstrong and the case.
"I was recently retained by Mr Armstrong to assist him with respect to the investigation by the US Attorney's Office in Los Angeles," Daly told the paper.
"I have no comment at this time, except to say that we are going to work diligently to find out precisely what, if anything, this investigation has to do with Mr Armstrong."
The federal investigation was instigated after former US Postal rider Floyd Landis revealed he took banned performance enhancing substances throughout his career and made a series of allegations about organised doping within Armstrong's teams, including US Postal and Discovery Channel.
Landis also named several other riders and staff in the teams and gave explicit information on where and how the alleged doping practices took place.
Federal prosecutor Jeff Novitzky is heading up the investigation into the claims for the US Food and Drug Administration department. It was Novitzky that spearheaded the BALCO organised doping investigation that ultimately lead to the US Olympic athlete Marion Jones receiving a jail sentence.
Daly is a partner in the Sheppard, Mullin, Richter and Hampton law firm whose misson statement is "Our mission is your success". The company has represented many major companies, including Yahoo, Kraft, Guinness, DHL, Master Card and Pepsi.
Daly is a former federal prosecutor for the Central District of California, Criminal Division, Public Corruption and Government Fraud Section. According to his biography, "was responsible for the investigation and prosecution of a wide variety of fraud and whistleblower cases, including health care fraud, aerospace and defense contractor fraud, and environmental violations."
Armstrong won the Tour de France seven times between 1999 and 2005. He is currently riding in the Tour de France for the RadioShack team, where he is 25th overall behind race leader Alberto Contador. Prior to the 2010 Tour, the Texan announced that this would be his last outing at the race.
The 2010 Tour de France concludes on Sunday, July 25, in Paris.
Landis allegations and related links
May 19 Landis admits he doped, implicates others
May 20 UCI's initial response to Landis allegations
May 20 WADA to investigate Landis allegations
May 20 Team Sky's Dave Brailsford responds to allegations against Michael Barry
May 21 Armstrong denies doping allegations
May 23 Could US Postal Service be key to investigation?
May 23 Confusion over Armstrong's donation to the UCI and the Sysmex machine
May 25 McQuaid confirms Armstrong's donation was $100,000
May 25 After initially dismissing them, UCI now takes Landis allegations seriously
June 7 Armstrong heckled at Tour of Luxembourg
June 7 Landis is represented by same legal team as Lemond
June 10 US Govt appoints federal prosecutor
July 3 Armstrong defiant in wake of latest revelations
Lance Armstrong: Rider Profile
Thank you for reading 20 articles this month* Join now for unlimited access
Enjoy your first month for just £1 / $1 / €1
*Read 5 free articles per month without a subscription
Join now for unlimited access
Try first month for just £1 / $1 / €1