Chris Froome ready for Tour de France title defence
Chris Froome under no illusions that it won't be hard to defend his Tour de France title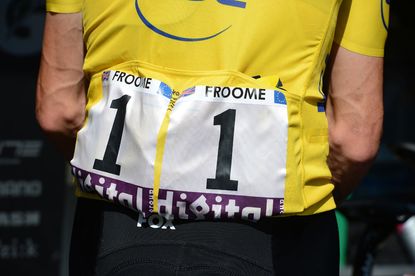 Chris Froome is preparing for a first this month when he races from Leeds to Paris, to defend the Tour de France title that he won last year.
"Winning the Tour de France for the first time is a huge undertaking, just consider that only two Brits in the race's 100 years have managed to do it. That shows how hard it is," Froome said. "I understand how hard it is to go back."
Last month in June, Froome led the Critérium du Dauphiné but failed to defend his title from 2013. The entire year has been a series of comparisons for followers. He won the Tour of Oman for a second straight time, Romandie too, but did not race the Critérium International and Tirreno-Adriatico, placed sixth in the Volta a Catalunya and failed in the Dauphiné.
Sky's 2012 Tour de France winner, Bradley Wiggins purposely raced a different schedule to avoid comparisons in 2013. He targeted the Giro d'Italia instead of the Tour and its customary build-up races only to have his plan backfire due to a chest infection and sore knee.
Froome for the most part has sailed the same course leading to the Grand Départ as last year but had some hiccups because of a sore back, chest infection and a crash in the Dauphiné.
"I knew I was only going to have that comparison in every race after winning Oman, the Critérium International, Dauphiné, Romandie. It's natural," the 29-year-old Kenya-born Brit added.
"I had my various objectives throughout the season, but I had hiccups. It's normal for people to draw comparison, but the Tour remains the focus, not necessarily winning everything before the Tour."
Though he explained it does not matter, Froome will line up in Leeds with six race wins compared to nine from 2013 at this same time. What counts are the other numbers, he said. He worked with Sky's experts sending in SRM data with heart rates, climbing speeds and training hours from last year's win in Paris though the week leading to Leeds.
"I'm able to test myself on certain climbs and with training efforts in Tenerife and the Cote d'Azur, that's very useful to see where I stand compared to the same point last year," Froome said.
"In fact, the numbers are the same, if not a little bit better. Working on things that I've not worked on as much with the gym work and off bike stuff, I'd like to think I'm getting stronger compared to 2013.
Chris Froome praises Alberto Contador's efforts on the penultimate Dauphine stage's final climb
Full rosters for all of the 2014 Tour de France teams, with race numbers
Thank you for reading 20 articles this month* Join now for unlimited access
Enjoy your first month for just £1 / $1 / €1
*Read 5 free articles per month without a subscription
Join now for unlimited access
Try first month for just £1 / $1 / €1