Chris Froome winning Tour de France 'at worst possible time'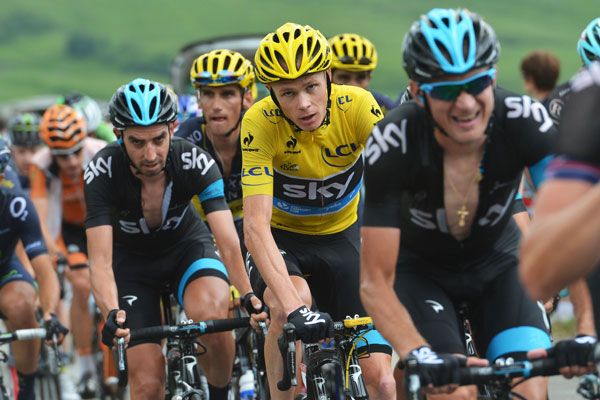 Chris Froome (Sky) is winning the Tour de France at the worst time possible, according to Team Principal David Brailsford. This year's edition comes on the heels of the Lance Armstrong scandal, which uncovered years of doping and saw the American stripped of seven Tour titles.
"It's probably the worst Tour to try to win, the one where all the Armstrong thing comes out, the lids taken off and everybody realised what was going on," Brailsford told press including Cycling Weekly.
"You come to the first Tour after that... You'd expect that the public who trusted in this sport for a long time to be a bit angry and a bit frustrated with what they found out. It's understandable."
This year, Froome has been under attack. Since taking the yellow jersey, journalists have asked him about Sky's impressive performances, his rapid rise, therapeutic use exemptions and power output.
On Thursday, French newspaper L'Equipe revealed it worked with the team to have its data analysed by sports science expert, Frederic Grappe. Grappe claimed there was nothing abnormal with what he saw. Brailsford hopes this helps win Froome some more support.
"We did what we thought was right. I can't tell you what the reaction is, but if it's a positive reaction, then that's great... We've been in touch with UK Anti-Doping, that ball's rolling now, we've been in touch with WADA, that ball is rolling," Brailsford added.
"I think people believed in the Lance era when deep down maybe they knew they shouldn't have. They are [doing that now] and disbelieving in Chris, where deep down they probably know they should."
Froome, contrary to Bradley Wiggins when initially asked last year, has responded calmly when quizzed over doping in the Tour.
"I completely understand that being in this position, being in the yellow jersey, it's perfectly normal to come under this level of scrutiny," Froome said today in a press conference. "I accept it; it comes with the yellow jersey. Whoever would be in this jersey would be under the same microscope."
He leads the race by 5-11 minutes over Alberto Contador (Saxo-Tinkoff) with only two stages remaining, including tomorrow's mountain stage to Annecy-Semnoz.
Related links
Tour de France 2013: Cycling Weekly's coverage index