Here's what YOU thought would be the perfect start to the Tour de France
We asked Cycling Weekly readers how they would devise the Grand Départ of the Tour de France. And here's what they said...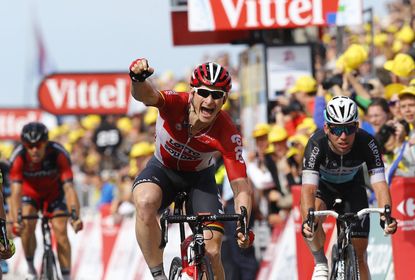 (Image credit: Watson)
A hotly-debated topic among cycling fans is what exactly would make the ideal start to the Tour de France.
Every year we see complaints that the Grand Départ of Le Tour was too easy, too hard, not in France, not in the right part of France, had a time trial, didn't have a time trial, etc...
So we decided to ask Cycling Weekly readers exactly how they would fashion their ideal first three stages of the Tour, and below is a selection of their answers.
Agree? Disagree? Tell us what your ideal Tour de France Grand Départ would look like in the comments box below.
>>> Riders and teams react to Tour de France 2016 route announcement
Stage 1 along the Belgian coastline for crosswinds, giving the sprinters a chance to win, but with tough racing. A stage in Flanders finishing on the Mur and then a stage in the Ardennes.
Jack Beavis
Stage 1: Inverness to Perth through the Cairngorm's. Stage 2: Glasgow to Edinburgh through southern uplands and Scottish borders. Stage 3: individual time trial in Fife. Winner is the first one not to get his wheels nicked.
David Findlay
Yorkshires Dales, Snowdonia mountains and the Isle of Wight.
Margaret Potter
Stage 1 (prologue): Alpe d'Huez; Stage 2 : Team time trial via the Col du Galibier; Stage 3 : Individual time trial via Mont Ventoux. That then gets all the time trials out of the way and allows attacks on the other stages... And get rid of race radios for the whole event!
Tony Barnsley
Past my house, past my house, past my house!
Noel Slack
Stage 1: Land's End to Exeter, stunning scenery with virtually no flat. Stage 2: Salisbury to Windsor, finish by the castle, or Legoland. Stage 3: Time trial through the Channel Tunnel.
Paul Fletcher
Stage 1, Individual time trial in the form of a commute from Kingston to St. Pauls via Tooting and Balham. Stage 2. Ride around the Surrey Hills, via every coffee stop/pub that sells beer and have a pint. Stage 3. Must take place on a Friday night or a Monday morning with a peloton longest-lap-style race on any main road into London.
Gary Lee
Watch: Tour de France 2016 essential guide
Stage 1: An East Anglian stage taking in some costal possible cross-winds. Stage 2: city-centre individual time trial around Birmingham. Stage 3: taking in every mountain pass possible through the Peak District with the pass by Mam Tor featuring twice the second time as a finish.
Becky Trower
In France. An opening stage starting in Mont Saint Michel and travelling to Utah Beach; a tough second stage from Saint Lô to Cherbourg, then a flat stage 3 from Grandville to Angers for the sprinters. No chance of ever seeing that happen… is there?
Ben Rogers
You can't beat a good team time trial to kick off the Tour, followed by a flat stage for the sprinters (with a finish time bonus) and then a second road stage with a hilly finish for the puncheurs. It's the magic formula to see the yellow jersey change hands – spread the love and all that.
Michael Rawnsley
Thank you for reading 20 articles this month* Join now for unlimited access
Enjoy your first month for just £1 / $1 / €1
*Read 5 free articles per month without a subscription
Join now for unlimited access
Try first month for just £1 / $1 / €1