'I'm ripped to pieces': Wrong place wrong time for Dan Martin as crash causes another setback
The UAE Team Emirates rider went down with just under 17km to go on stage eight and lost over a minute on GC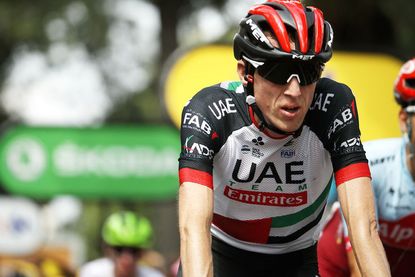 (Image credit: Getty Images)
Daniel Martin (UAE-Team Emirates) finished the eighth stage of the Tour de France in Amiens "ripped to pieces" after a crash in the final 17 kilometres.
Martin is able to continue the race, with X-rays clearing him of fractures, but he will certainly feel the pain of his back when he races over the cobbled of Roubaix on stage nine.
>>> Dylan Groenewegen wins second consecutive Tour de France stage as Dan Martin loses more than a minute in crash
"I'm ripped to pieces," Martin said coming out of the X-ray truck at the Tour de France.
"I landed on my back. That's why we thought there might be a fracture, but it seems not. I bounce well."
Martin, winner of the sixth stage to Mûr de Bretagne, lost 1-16 minutes in the incident that occurred within 17 kilometres to race. He now sits in 31st, losing 10 spots, at 2-47 minutes back from overall leader Greg Van Avermaet (BMC Racing).
"I've felt better… But it's not as bad as I feared, there's nothing broken. I've got to try to ride over those cobbles stones tomorrow. I'm going to be sore and my back is a bit of a mess," added Martin.
"I think you always know it's a mess when the doctors take off the bandages to do the scan and go, 'Ohhh!'
"But it could have been a lot worse. I was in the wrong place at the wrong time."
Martin finished the 2017 Tour de France sixth overall, a result made more impressive when scans revealed that he had two fractured vertebrae. He fell in the stage nine incident on the descent of the Mont du Chat that took out Richie Porte (BMC Racing) from the race.
The fall was a result of a nervous peloton today, when Martin ran into the rear wheel of another rider.
"This race has been incredibly nervous this year and especially with so many people standing along the road. The guys ride millimetres away from them to try and move up," Martin said.
"I was one of the first to crash. Someone braked in front of me, turned right and took my front wheel away. I couldn't do anything. There are these moments in the peloton and who knows what causes the crashes. The Tour gets away with it by saying it's the Tour but it's strange that there aren't crashes like this in other races."
"When a rider crashes, you never know how it happened," UAE Team Emirates sports director Philippe Mauduit added.
"Why? They say because it's the Tour de France, because it's the finish of an important race, everyone wants to be there."
The team is now worried with the Roubaix stage tomorrow that covers 21.7 kilometres of pavé. Afterwards, they have a rest/travel day and the mountain stages begin in the Alps.
"You know how it is when a rider like he is now, from feet to his head, it hurts," Mauduit explained. "It will be a tough day tomorrow, for sure."
Thank you for reading 20 articles this month* Join now for unlimited access
Enjoy your first month for just £1 / $1 / €1
*Read 5 free articles per month without a subscription
Join now for unlimited access
Try first month for just £1 / $1 / €1