Lance Armstrong unhappy at Tour de France's Jan Ullrich 'snub' for Grand Départ
1997 Tour de France winner Jan Ullrich will not be among the former pro riders and dignitaries present in his home nation of Germany for this year's race start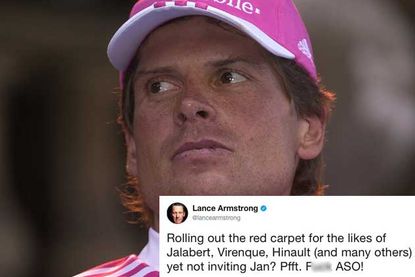 Lance Armstrong has publicly aired his grievance at Tour de France organiser ASO, after it reportedly did not invite former German pro and 1997 Tour winner Jan Ullrich to this year's Grand Départ in Düsseldorf.
Commenting on the list of riders who will be making an appearance at the opening day of the 2017 Tour, Armstrong wrote on Twitter: "Rolling out the red carpet for the likes of [Laurent] Jalabert, [Richard] Virenque, [Bernard] Hinault (and many others) yet not inviting Jan? Pfft. F*** ASO!"
Ullrich became the first and only German winner of the Tour in 1997 – which is marked by its 20th anniversary this year.
However, his friend and former Telekom/T-Mobile team-mate Andreas Klöden told German newspaper Frankfurter Allgemeine that Ullrich had not been invited to the Grand Départ. Instead, Ullrich will celebrate the 20th anniversary of his Tour win by taking part in a charity ride in Bocholt.
Armstrong and Ullrich were great rivals at the Tour during the late 1990s and early 2000s.
Ullrich was subsequently embroiled in the Operación Puerto doping scandal, which led to be non-participation in the 2006 Tour and subsequent suspension from T-Mobile. He announced his retirement from pro cycling the following year.
In 2012, the Court of Arbitration for Sport (CAS) found Ullrich guilty of doping, banned him for two years and stripped him of his results from May 1 2005 to July 2006. Ullrich's 1997 Tour victory remains in the record books.
Armstrong had seven Tour de France victories (1999 to 2005) stripped after he admitted in 2013 to doping during his career.
In May this year, Ullrich was appointed as sporting director of the Rund um Köln event but stepped down after four days due to negative media reports.
Thank you for reading 20 articles this month* Join now for unlimited access
Enjoy your first month for just £1 / $1 / €1
*Read 5 free articles per month without a subscription
Join now for unlimited access
Try first month for just £1 / $1 / €1