Should Lance Armstrong's seven Tour de France 'wins' be reinstated?
Opinion is split between the 25 surviving Tour de France champions on whether Lance Armstrong was winner of the Tour de France between 1999-2005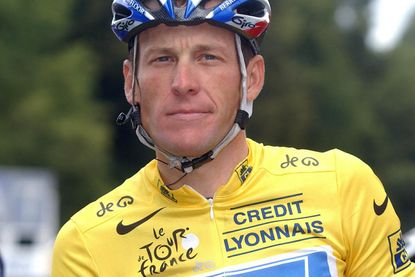 (Image credit: Graham Watson)
Respected Dutch journalist Raymond Kerckhoffs, the chief cycling writer of Dutch daily paper De Telegraaf, decided to ask the 25 surviving winners of the Tour de France if they thought that Lance Armstrong should be 'given back' the seven Tours that the UCI and Wada stripped from the American following the publication in October 2012 of the USADA Reasoned Report.
Over a period of months, Kerkoffs contacted riders from Federico Bahamontes, winner of the 1958 Tour to Chris Froome, winner in 2013, canvassing opinion from former Tour winners on the prickly question of whether or not Armstrong's name should be reinstated as the winner of the Tour between 1999 and 2005.
Perhaps surprisingly, half said that his name should be listed as the winner of the race, with those 'for' including Stephen Roche, Miguel Indurain, Jan Ullrich, Oscar Pereiro and Andy Schleck, as well as Janssen, Felice Gimondi and Joop Zoetemelk. Indurain, a five-time winner between 1991-1995 said, "If nobody else can be reasonably declared the winner of the races in those years it's clear that Armstrong won these seven Tours."
For his part, Ullrich declared, "I don't want wins to be awarded to me by a committee, I want my wins to have been achieved on the bike. Armstrong is the winner of those Tours, nobody else."
Some former winners preferred to keep their thoughts to themselves, like two-time winner Bernard Thevenet (who has admitted to doping using cortisone during his career) or Eddy Merckx who had 'no comment' to make on his former friend, as did his former team mate Alberto Contador.
Both Bradley Wiggins and Froome reckoned that it would be better if the 'winner' of the seven Armstrong Tours was left blank.
"I think we should leave it as it is now," Froome told Kerckhoffs, "We know what the problem was in those years in cycling. The seven empty spaces characterise a period in the history of the Tour de France."
Lance Armstrong may be banned from all sport, but he still casts a long shadow over cycling and his thoughts – which the Texan recently shared the with UCI Independent Commission – are still sought by those seeking closure on a wound that will take a very long time to heal.
The full story (in Dutch) can be found on the De Telegraaf website.
Lance Armstrong's lawyers fail to get Floyd Landis's $100million whistleblower lawsuit dismissed
Three-time Tour de France champion Greg LeMond releases 'answer' video to Lance Armstrong's 'how to fix a flat'
Thank you for reading 20 articles this month* Join now for unlimited access
Enjoy your first month for just £1 / $1 / €1
*Read 5 free articles per month without a subscription
Join now for unlimited access
Try first month for just £1 / $1 / €1