Luke Rowe column: It's been fun to ride aggressively at the Tour de France
"It was quite fun to attack and race aggressively as opposed to defensively while controlling the break"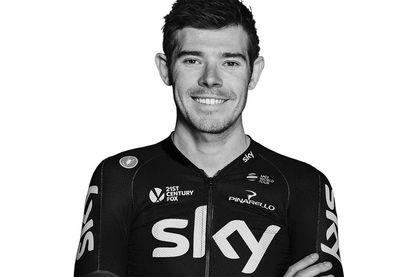 Welshman Luke Rowe is Sky's road captain and is currently riding the Tour de France. He is also a Cardiff Devils ice hockey fan.
I've been recovering from that crash during the first week of the Tour de France and now feel back to my usual self.
I don't care about how I go personally in the race but that feeling when you are at 90 per cent and you can't give 100 per cent to the team because your body is not cooperating is one of the worst feelings. Luckily that's been a lot different and I've felt a lot stronger.
Chris Froome losing the yellow jersey after stage 12 fuelled the fire — the past Tours I've been a part of, once he's got it, he's never really lost it. In 2015 Tony Martin took it off him for a couple of days early in the race but he was never a long-term threat. Losing it to Fabio Aru was something new for us but the very next day we bounced back.
>>> Tour de France 2017: Latest news, reports and race info
You could see Froomey was quite disappointed that day but he's got a big heart and will keep fighting and that epitomises the last few days he's had. It was quite fun to be on the other side, to attack and race aggressively as opposed to defensively and controlling the break.
It was a breath of fresh air and showed people what we can do and how we ride super-aggressively if we don't have the jersey to try and blow the race to bits. It was good for the fans to see a different side to the way we race.
The short 101km day on stage 13 was ballistic. After 25k we hit the first climb and I think myself and 120-130 others were dropped there.
Even in the first 25k I was getting involved and attacking, and it was pretty fast and furious. Those stages are good and exciting for the fans and are certainly the way forward. They've produced the best racing as well.
Someone came up and told me a couple of days ago I was the lanterne rouge after a few guys had pulled out. Honestly, I had no idea as I don't look at the bottom end of the GC or where I am and where I finish on the stages.
I'm focusing on doing everything I can for Froomey then sit up and lose time where I can and make sure I'm fresh to do as good a job the next day. So I guess in one way it proves I'm doing my job right. Although Dan McLay overtook me the other day!
Note: Since this was written, Dan McLay has withdrawn from the Tour with illness, so Luke is back as lanterne rouge
Thank you for reading 10 articles this month* Join now for unlimited access
Enjoy your first month for just £1 / $1 / €1
*Read 5 free articles per month without a subscription
Join now for unlimited access
Try first month for just £1 / $1 / €1