Luke Rowe 'light-heartedly' tears down spectator's anti-Team Sky banner before Tour de France start in Lorient
Rowe: "We'll see how we go, but that's my one banner done for the Tour now"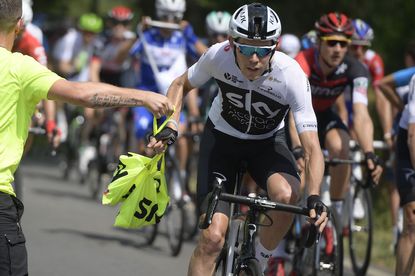 (Image credit: Yuzuru SUNADA)
Luke Rowe claims that he light-heartedly tore down an anti-Team Sky banner at the start of stage five of the Tour de France, despite reports suggesting it was something more malicious.
"There was a guy outside the bus who had a banner saying Sky go home, when I came out the bus he was there shaking it around and was stood next to two kids wearing Sky t-shirts. He was laughing, I was laughing and I grabbed it," Rowe said.
"It was tongue in cheek and after I went over and gave his kids two bottles and was a bit of light-hearted fun, I don't think it was a fan who genuinely disliked us. It seemed like quite a light-hearted guy, and it was no big deal."
>>> Peter Sagan untouchable as he powers to victory on Tour de France 2018 stage five
A report on Velonews (opens in new tab), which interviewed the fan, suggested that the incident was not quite as light-hearted as Rowe implied, but when asked outside the Team Sky bus after Peter Sagan's stage five victory in Quimper, Rowe said he didn't believe he would repeat the act.
"No we'll see how we go, but I think that's my one banner done for the Tour now." he said.
Team Sky have had a hostile start to the Tour de France so far, with some fans booing Chris Froome, but Rowe believes the reactions are getting better.
"The presentation at the first stage wasn't the best, but ever since then its been really good actually and day on day its getting better," Rowe said.
"Its actually quite surprising and 99.9 per cent are great fans its just that last percentage that will react the opposite way. But we are here to do a job so we just forget about it."
>>> Egan Bernal eager to learn from Froome and Thomas in Tour de France debut
Dave Brailsford also spoke about his responsibility for the Team Sky riders and staff, to protect them "physically and psychologically,"
"I'm very mindful and taking responsibility to make sure they are protected both physically and psychologically," Brailsford said.
"So I feel very responsible for Egan [Bernal] for example he is young, come here for the first time and here he is and he is like what's going on here. I think it's a shame that he has to experience that, and sad actually."
Thank you for reading 10 articles this month* Join now for unlimited access
Enjoy your first month for just £1 / $1 / €1
*Read 5 free articles per month without a subscription
Join now for unlimited access
Try first month for just £1 / $1 / €1
Paul Knott is a fitness and features writer, who has also presented Cycling Weekly videos as well as contributing to the print magazine as well as online articles. In 2020 he published his first book, The Official Tour de France Road Cycling Training Guide (Welbeck), a guide designed to help readers improve their cycling performance via cherrypicking from the strategies adopted by the pros.