Mavic's Tour de France neutral service bikes get dropper seatposts for 2017
French brand introduces adaptability to deal with different rider saddle heights and pedal systems at the Tour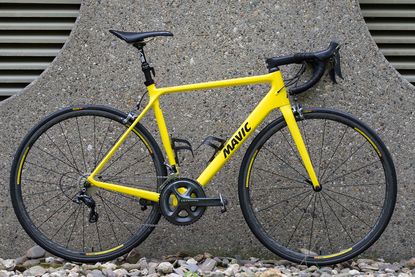 (Image credit: Chad Moore)
Mavic has been providing neutral service for the Tour de France and other major races for years. Usually that means supplying replacement wheels when a rider gets a flat and the team car is not close by.
But the distinctive yellow neutral service cars also carry spare bikes. Decked out in yellow to match the car, they're not usually required, as riders will take a spare bike from their team car or, for GC riders, from another member of the team if they have a mechanical problem.
But this doesn't always work out. And the most memorable instance of a rider suffering a problem without team support nearby was the chaotic stage 12 on Mont Ventoux in last year's Tour.
Having damaged his bike in a crash with a camera motorbike and with no team support, Chris Froome took a bike from neutral service, only to find that it had the wrong pedal system and was much too small for his gangly form.
Unable to ride the bike, he took to foot to start running up the mountain.
Now Mavic has taken steps to avoid a repeat of such problems in the 2017 Tour. This year, it's carrying a bike with each of the three major clipless pedal systems (Shimano, Look and Speedplay) on its cars, so that clipping in won't be a problem.
And to accommodate different sized riders, its neutral service bikes now all have a dropper seatpost.
Made by US brand KS Suspension and based on its KS LEV Integra 272 design, the post has been specially adapted for Mavic's requirements.
Mavic's seatposts offer 65mm of travel and weigh 453g. The system is based on a mechanical and air adjustment, with a simple plastic loop to alter the saddle height.
>>> Mavic launches Izoard clothing collection for the Tour
Pulling on this while seated will lower the post, while without the rider's weight, the release will let the saddle rise to its full extension. The saddle height is lockable at any position in between.
Mavic expects that this new approach will allow it to get a rider back on a bike as soon as possible, with fine-tuning of saddle height from the car once they are moving.
Thank you for reading 20 articles this month* Join now for unlimited access
Enjoy your first month for just £1 / $1 / €1
*Read 5 free articles per month without a subscription
Join now for unlimited access
Try first month for just £1 / $1 / €1