Michael Matthews misses Tour de France due to training crash injury
Michael 'Bling' Matthews will not start Tour de France for Orica-GreenEdge, replaced by Christian Meier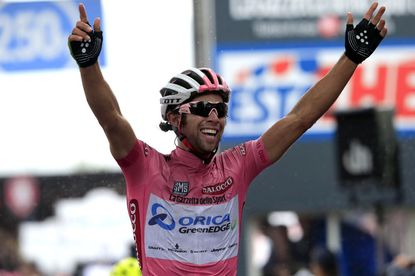 (Image credit: Watson)
Michael Matthews will not make his debut at the Tour de France due to injuries sustained as a result of a training crash on Tuesday in Monaco. The Australian will be replaced by Canadian Christian Meier in Orica-GreenEdge's line-up.
Matthews, who wore the pink jersey and won a stage at the Giro d'Italia, fell while training in Monaco before leaving to join his team in Leeds.
On Thursday night, 'Bling' clearly looked uncomfortable when he walked onto the stage with his team at the presentation. He was wrapped in bandages and showed six stitches on his left hand when he waved to the crowd.
"He is bandaged up like a mummy," head sports director, Matt White told the Sydney Morning Herald newspaper before the announcement was made that Matthews was out. "It's 50-50 [if he will start], but we will put him on the bike and see how he goes handling the bike and make a decision after that."
The team confirmed in a press conference on Friday afternoon that he was unfit to start.
Meier's inclusion means that Orica still fields five Tour de France rookies including English neo-pro Simon Yates. Simon Gerrans, who won a stage last year and wore the yellow jersey, also makes up the roster.
Matthews' crash could not have come at a worse time. On Wednesday, the team revealed that South African Daryl Impey tested positive for diuretic Probenecid and would not be starting the Tour.
Matthews told the team's management that he crashed on his last training ride before leaving Monaco.
"I was coming down a hill and a car had rolled and the main road was blocked off, so they sent me down this little side road with all rocks all over near the trees," Matthews said.
"It had these little speed bumps there, these sharp speed bumps, and I jumped the first few and then I came around this corner and under the shade of the tree there was rocks everywhere. I hit the speed bump and my hands have gone off the handlebars and the rest is history."
Matthews, the 2010 Under 23 World Champion, won two stages in the Vuelta a España last year, one in the Giro d'Italia this year and hoped to keep going in the Tour this month.
Orica held a team press conference at 14:30 this afternoon and announced that Matthews will not race. The team flew Meier from North America to Leeds to fill Matthews' shoes.
Orica-GreenEdge rider Daryl Impey fails test for banned substance Probenecid in February
Thank you for reading 20 articles this month* Join now for unlimited access
Enjoy your first month for just £1 / $1 / €1
*Read 5 free articles per month without a subscription
Join now for unlimited access
Try first month for just £1 / $1 / €1