Nairo Quintana, Mikel Landa and Alejandro Valverde recon Tour de France's cobbled roads
Movistar Grand Tour trio Alejandro Valverde, Nairo Quintana and Mikel Landa undertake a reconnaissance ride of the cobbled roads to be used on stage nine of the 2018 Tour de France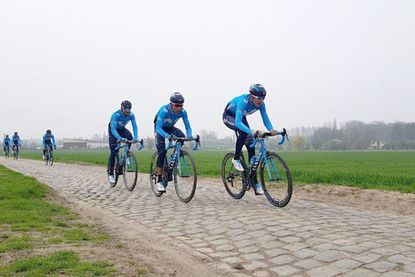 (Image credit: Movistar Team)
Team Movistar's Nairo Quintana, Alejandro Valverde and Mikel Landa tackled the cobbled roads used during Paris-Roubaix on Tuesday
The three riders are joint leaders for the Spanish WorldTour team for this year's Tour de France – which features Paris-Roubaix's cobbled sectors during stage nine.
The stage is seen as a key stage after the opening week, with the potential for unwary or unprepared riders to lose time against their rivals. The three riders took on 15 cobbled sectors in their recon ride.
Quintana, Valverde and Landa have raced on the cobbles of northern Europe in the past few weeks to gain experience in race conditions. Landa raced in E3 Harelbeke, with Quintana and Valverde tackling Dwars door Vlaanderen.
Several of their key Tour rivals have also either raced or ridden on cobbled roads this season to prepare for the race.
Valverde put in a strong performance during Dwars door Vlaanderen, placing 11th. He subsequently toyed with the idea of racing in the Tour of Flanders, but in the end elected not to do it.
>>> Mikel Landa: 'I have to learn the cobbles for the Tour de France'
The Movistar trio were joined in their recon on Tuesday by three team-mates who raced in Paris-Roubaix on Sunday: Imanol Erviti, Marc Soler and Jasha Sütterlin.
Movistar sport director José Luis Arrieta said: "What we wanted here was to get a real feeling about the terrain: how you enter and tackle every sector, which ones of them could be key - it's obvious that it will all be a different story when you're racing and into a furious peloton, but I'm sure this recon will really help us a lot.
"We were also lucky, since we had two days of dry weather, which allowed us covering the entire group of sectors with no setbacks. Taking advantage of all materials we already had here in northern France for Roubaix, we also tested different wheelsets, tyre pressures - it's also about having everyone going into this stage, come July, with absolute confidence about what's best for them.
"All three leaders had already ridden on cobblestones this spring, and even if we know that the hardness of those sections is nowhere near the Roubaix pavé, it's significant for us to have them feeling what it's like to go on a cobbled race."
The 2018 Tour de France runs from July 7-29, with stage nine taking place on Sunday, July 15, starting in Arras and finishing in Roubaix 154 kilometres later.
Thank you for reading 5 articles this month* Join now for unlimited access
Enjoy your first month for just £1 / $1 / €1
*Read 5 free articles per month without a subscription
Join now for unlimited access
Try first month for just £1 / $1 / €1