Telegraph criticised after saying that Croatian rider's Tour de France crash was 'good omen' for England
It certainly didn't prove a "good omen"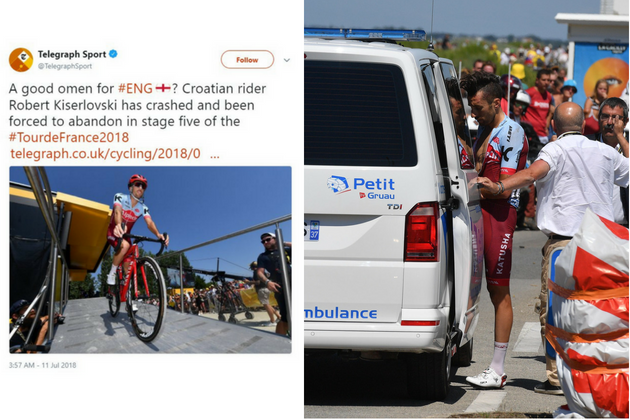 (Image credit: Twitter/Sunada)
The Telegraph has faced criticism on social media after tweeting that a crash for a Croatian rider at the Tour de France could be a "good omen" for the England football team in their World Cup semi final against the Croats on Wednesday.
Robert Kiserlovski crashed in the opening kilometres of stage five during an aggressive start on the roads out of Lorient, appearing to be in considerable discomfort as he lay on the ground on the outside of a right-hand bend having collided with the central reservation.
It was immediately apparent that the Katusha-Alpecin rider was in some discomfort after the crash, with the matter appearing more serious as photographer's motorbike crashed into Kiserlovski as he lay on the floor.
>>> Who's out of the Tour de France after stage five?
Unsurprisingly the 31-year-old was forced to abandon the race as he climbed into the back of an ambulance to be taken to hospital where he was diagnosed with a broken collarbone.
With the news that Kiserlovski, one of two Croatian riders in the Tour had abandoned, the Telegraph Sport Twitter account tweeted: "A good omen for England? Croatian rider Robert Kiserlovski has crashed and been forced to abandon in stage five of the Tour de France 2018".
The tweet, which was deleted a few hours later, received plenty of criticism on social media, being labelled "an incredibly stupid statement", a "truly awful tweet", and "shameful and inappropriate".
Of course there was no "good omen" for England's football team on Wednesday night, with the team going out of the World Cup with a 2-1 loss after extra time.
But the good news for England fans is that there is still another two-and-a-half weeks of the Tour de France to go, with one rider each from England and Croatia still remaining in the race in Adam Yates and Kristjan Durasek.