What is it like to be in the Tour de France yellow jersey for a day?
An icon of the sport in its own right, the yellow jersey is a prize associated with the climbers and all-rounders of the sport. However, when race organisers set a parcours that favours a flat, fast finish, sprinters have their moment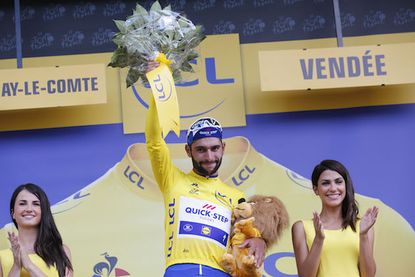 (Image credit: Yuzuru SUNADA)
Get The Leadout Newsletter
The latest race content, interviews, features, reviews and expert buying guides, direct to your inbox!
Thank you for signing up to The Pick. You will receive a verification email shortly.
There was a problem. Please refresh the page and try again.
There are a couple of reasons why Fabian Cancellara has worn the yellow jersey in five separate Tours. One of them is down to his supreme time trialling ability; the other is the tradition that, over the past 50 years, Tour de France course designers have had a tendency to favour a prologue or short time trial to kick off the three weeks of racing.
This resulted in an unbroken streak of 40 years of stages against the clock to begin the race from 1967 to 2007. This streak was broken when Alejandro Valverde was the first to take advantage of the opening massed start in 2008 from Brest to Plumelec, with victory up the Côte de Cadoudal.
It would take another five years until the pure sprinters got their chance to take the double whammy of stage victory and yellow jersey. Marcel Kittel did so on a hectic finish into Bastia, Corsica, in 2013. "It was a big honour and was a great moment, especially for a sprinter," the German sprinter says, looking back ahead of stage one of this year's race.
>>> Tour de France 2018: Latest news, reports and race info
"I didn't place extra pressure on that day compared to any of the other 21 stages, as it is just one day, but it is more a case of an extra bonus that comes with the winner of that day."
That bonus this year fell to Quick Step's Fernando Gaviria, as he was the first across the line into Fontenay-le-Comte.
However, this year's race also showed the other, somewhat cruel side to that bonus — sprinters rarely hold on to yellow for more than a single day. Gaviria, a Tour debutant, surrendered the maillot jaune despite the opportunity to buck the trend on a second stage that seemed built for him to double his win record.
Recent history suggests that we may be in the early years of an era with more opportunities for sprinters to get their hands on the yellow jersey, with four 'flat' stages kicking off the Tour over the last six years.
Of course, the opening stage of the race offers the opportunity for sprinters to take the jersey, without relying on a strong personal performance against the clock or on their team-mates in team time trials.
However, it is not impossible for a rider with a decent kick to take yellow after a few days, but even for more versatile all-rounders the reality they will probably lose the jersey very soon is obvious from the moment the stage is won.
Short but sweet
"For myself when I took the yellow jersey, the objective was never to hold it all the way to Paris, especially when you take it on stage four which is when I think I took it on," explains Simon Gerrans, holder of the yellow jersey from stages four and five in the 2013 race.
"In that Tour de France the goal was always the first part of the race, to try and win a stage and get the yellow jersey. So for me it was never a case of holding it for an extended period; it was just to take the win and hold the jersey at some point, because it's a huge honour to wear the yellow jersey and to lead the world's biggest bike race."
One of the yellow jersey wearers the last time the race visited the Vendée region in 2011 was Philippe Gilbert, who took the honours after a high placing in the prologue the day before a stage win at Mont des Alouettes.
Unfortunately, it was to be an even shorter stint than some of the riders before and after him, which made him relish the moment with the inevitable loss of the jersey forthcoming.
"It was a team time trial the next day and it was only 20km so I only had it for 22 minutes or so, so it was really short but nice," he says.
Despite the limited time spent in yellow, the Belgian multiple Monument winner felt something different that day that he hadn't felt before or since:
"You realise you are not someone any more but you are the yellow jersey, people point and say, 'That is the yellow jersey,' and they don't even mention your name or nationality.
"They don't even care because you are the yellow jersey, you are not a person any more, you are just a symbol of the Tour de France and you are something that people want to see — in a good way. It's special; they don't know it or know who you are but you are this thing they want to see."
Respect of the jersey
It is often said that riders who have the yellow jersey on their shoulders ride with not only an extra chunk of respect, but the presence that the jersey gives results in an increase in personal space within the peloton compared to normal circumstances.
Whereas this may be the case for a general classification contender heading into the mountains where the fight for position isn't as heated, when it comes down to the crunch point in a sprint, etiquette goes out of the window.
>>> This is what you have to eat to compete in the Tour de France
"You have more respect because they give more room to you, especially around the team, but when it's a fight for position then nobody cares," explains Thor Hushovd, wearer of the yellow jersey on four separate occasions, only one of which lasted more than a day.
The Norwegian fastman gained these moments in the sun through a variety of methods including a notable prologue performance, team time trials and sprints. But when it then came for him to contest a sprint the next day it did him little good.
"The first time I had the yellow was in 2004 and the last was in 2011 and the respect in the peloton just got worse and worse, which is also maybe fair because it is so important for everyone," he explains.
Hushovd was mainly known for his green jersey exploits and his maillot vert rival Mark Cavendish supporting his claim that "the days are long gone of anyone getting any space" regardless of the colour of their jersey.
Pinnacle of the sport
No matter what successes a rider has in their career it is more than likely that a stint in the maillot jaune places highly on their list of achievements. A day in yellow can make a career for an unknown rider, turning them into an overnight star with future riches and contracts almost guaranteed.
But does the lure of the Tour leader's jersey still appeal to riders who are used to wearing it? "It was a big thrill to win the first jersey, but the reality is that it doesn't change your life but you know that you've added something important to your sporting career," says Mario Cipollini, three times a holder of yellow in two separate Tours, as well as a multitude of Worlds, Giro and one-day wins.
"Every victory has its meaning and they all stay with you somehow. The big wins at the Worlds, Milan-San Remo, a pink jersey or a yellow jersey were all part of my dreams as a boy. Every one of them had its part in my career." It was only the Tour's yellow jersey though that meant Cipollini incurred a fine, for matching his shorts to his jersey.
However fortunate the romance and riches that the Tour and the jerseys may bring the riders, the cut-throat world of professional sport means those victories are quickly forgotten: "Cycling is always a case of starting from zero each year. What you won last year is forgotten, or even the day before, but the satisfaction remains.
"Sometimes you find a big satisfaction in a smaller race that doesn't have a big famous yellow jersey associated with it or is known around the world."
Despite his claims it's clear that some jerseys still mean more than others.
"I have all of my yellow jerseys framed like paintings in my home in Lucca," Cipolloni confides.
How Mark Cavendish's maillot jaune was won
Roger Hammond was behind the wheel of the Dimension Data team car in 2016, the day Mark Cavendish got his hands on the yellow jersey at Utah Beach. Cavendish missed out on two previous opportunities in Yorkshire and Corsica in the preceding years to Marcel Kittel, but Hammond explains how his first day at the Tour working in a sports director role for the British sprinter will be one he won't forget.
"He has had a pretty rough run up to all three Tours [I've been on] but you go there with hopes that it's all going to work out and it was pretty amazing.
"There is that little bit of stress in the car where you are waiting for the announcement to come through; there is always radio silence going on from the race organisers, they are always giving you loads of information until the last 500 metres and then it goes completely silent and seems to take forever for the result to come through and you just hear a little crackle on the rider radio and then the news that he won. Then it is ecstasy.
>>> Where to watch Tour de France 2018: live TV guide
"The nice thing was that everyone had written him off, including the British cycling press, so it's always nicer to come out and do what he did and not only take the yellow jersey but to win four stages. It kind of puffs us up and makes us strut around a little bit more.
"It was his childhood dream and it was lovely to be a part of it because he always wanted to wear the yellow jersey in the Tour de France, first in the Harrogate stage which didn't work out, then he got his opportunity and he is hugely proud of it. It was a difficult stage for him to defend the jersey but that wasn't the point; it was an uphill stage the next day and he got his day in yellow.
It made more of an impression that year because there was only one opportunity to take that yellow jersey, especially with Peter Sagan in the race with the uphill finish. He cares about the world of cycling and the history and wearing the yellow jersey in the Tour is part of that.
Thank you for reading 20 articles this month* Join now for unlimited access
Enjoy your first month for just £1 / $1 / €1
*Read 5 free articles per month without a subscription
Join now for unlimited access
Try first month for just £1 / $1 / €1
Get The Leadout Newsletter
The latest race content, interviews, features, reviews and expert buying guides, direct to your inbox!
Paul Knott is a fitness and features writer, who has also presented Cycling Weekly videos as well as contributing to the print magazine as well as online articles. In 2020 he published his first book, The Official Tour de France Road Cycling Training Guide (Welbeck), a guide designed to help readers improve their cycling performance via cherrypicking from the strategies adopted by the pros.