East Lancashire stage of Tour of Britain not confirmed, despite reports
A lot of issues still be be resolved before the Tour of Britain can pay a visit to East Lancashire, says council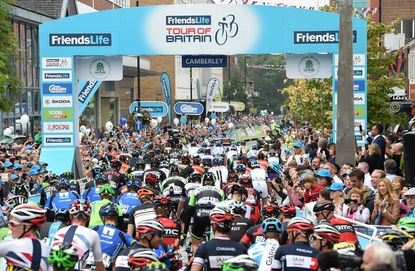 Council chiefs in East Lancashire have denied that the region has already been confirmed as a stage host for this September's Friends Life Tour of Britain.
Local newspapers in the area reported in the autumn how stage two of the 12th edition of the race was to start in the Ribble Valley and finish in Colne, in the borough of Pendle, on Monday, September 7.
Norfolk press have already stated that the race will visit East Anglia next year but whether or not the peloton graces the Pennines is yet to be rubber-stamped.
Mark Beveridge, head of cultural and leisure services at Ribble Valley Borough Council, told Cycling Weekly that there are still obstacles to overcome if they wish to attract the race for the first time.
"We're looking into the possibility of it but nothing is confirmed yet. As with any event, there are lots of issues to go through and resolve," he said.
It had been said that opposing councillors disagreed as to whether or not Pendle Borough Council should contribute £100,000 to the staging of the race, with Liberal Democrats saying that locals would rather the money went on keeping people in work and warning that the event would not gauge the public's interest.
But Conservative councillors, the Lancashire Telegraph reported, backed the plans to bring the race that attracted eight WorldTour teams in 2014 to the region.
>>> Edinburgh bids to host Tour of Britain and Pearl Izumi Tour Series in 2015
Mr Beveridge commented: "The local press were very presumptive and I think gave a lot of local cyclists excitement.
"Funding is always an issue; it is always a challenge for any organisation, big or small."
It is anticipated that details of the eight stages will be announced by organisers SweetSpot in the spring. "We would like to have a reached an agreement by then," Mr Beveridge added. "It would be nice if it did happen but if comes, it comes. If it doesn't, it doesn't."
Thank you for reading 5 articles this month* Join now for unlimited access
Enjoy your first month for just £1 / $1 / €1
*Read 5 free articles per month without a subscription
Join now for unlimited access
Try first month for just £1 / $1 / €1