Here's a drive-through of the Bristol stage of the Tour of Britain (video)
BBC Radio Bristol take a quick spin around the 15.3km circuit that will hold a time trial and circuit race during the 2016 Tour of Britain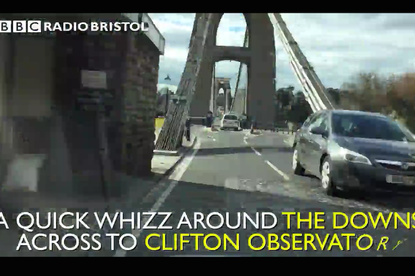 Bristol will be the place to go if you want to watch top-class cycling on September 10, with the Tour of Britain hosting two stages in the city.
First up is a time trial around the west and south of the city on a reasonably technical 15km route. Then, in the afternoon, comes a 76.5km circuit race around almost the same route.
BBC Radio Bristol went for a drive around the 15.3km circuit with a camera on the dashboard so we can have a look at the route.
Annoyingly it's sped up a little too fast to actually get a feel of what the course is like, but it seems to be urban enough to encourage spectators to come out in their thousands.
There's also the traversing of the Clifton Suspension Bridge to take into account, which could be a bit gusty, especially in the time trial.
>>> Tour of Britain 2016 route confirmed with stages in Scotland, Wales and Dartmoor
With the summit finish on Haytor the previous day, the time trial could be the place where general classification hopes try to reclaim some vital seconds to secure the race win.
It's fair to say that Bristol will see some of the most exciting racing of the 2016 Tour of Britain.
Thank you for reading 20 articles this month* Join now for unlimited access
Enjoy your first month for just £1 / $1 / €1
*Read 5 free articles per month without a subscription
Join now for unlimited access
Try first month for just £1 / $1 / €1