Shimano neutral service help pull Jonathan Castroviejo from a ravine (video)
Watch as the Shimano head cam captures another incident as they help pull Movistar's Castroviejo from a steep hill side after a crash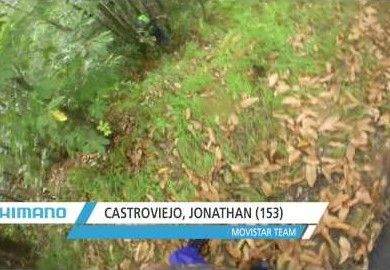 It's not all wheels changes and broken chains for neutral support at a grand tour as this latest video from the Shimano head cam shoes.
Driving down a fast descent on stage 15 of the Vuelta a Espana, the Shimano neutral service motorbike suddenly pulls over to the side of the road.
It's not completely clear what they're stopping for at first, until you see the forlorn figure of Movistar's Jonathan Castroviejo by some trees a few metres down into a the steep banking of a ravine.
After waving down the Movistar team car, the neutral service mechanic dismounts and helps pull the Spaniard to safety and back to his bike, which is lying in the middle of the road after his apparent crash on the wet roads of the descent.
Castroviejo continued the stage (without even a thank you to the mechanic we might note), and ended up finishing the Vuelta in 85th position, having helped Alejandro Valverde to third step on the podium behind Chris Froome and overall winner Alberto Contador.
More cycling videos
Watch as Rabobank-Liv spectacularly crash out of women's team time trial world championship race
Thank you for reading 5 articles this month* Join now for unlimited access
Enjoy your first month for just £1 / $1 / €1
*Read 5 free articles per month without a subscription
Join now for unlimited access
Try first month for just £1 / $1 / €1