'We're heading to a world where only the Tour de France matters. I don't like that'
Giro d'Italia and Vuelta a España organisers balk at Grand Tours cuts: Shortening races would 'be a mistake', they say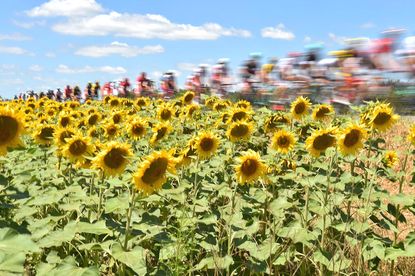 (Image credit: Yuzuru Sunada)
The Giro d'Italia and Vuelta a España organisers say it would be a mistake to reduce their races to two weeks and allow the Tour de France to remain the only Grand Tour on cycling's calendar.
UCI President Davide Lappartient said recently that the Tour should remain at three weeks, or 23 days, while saying that the Giro and Vuelta could be reduced to no more than 17 days, or two weeks and a weekend.
"We're heading to a world where only the Tour matters. I don't like that," Giro director Mauro Vegni told Cycling Weekly.
>>> Should Grand Tours be shortened to two weeks? UCI president says he'll consider the idea
"You need to remember what role these races play. I would like Lappartient to talk to us before saying something like this. We are a business, he can cause economic damage for us by saying such things."
Vuelta director Javier Guillén said: "The Vuelta and the Giro are growing yearly at a sports, social and media level, it would be a mistake to reduce them."
It is not the first time that calls have been made to shorten the Italian and Spanish Grand Tours — a similar idea was floated and rebutted in 2014.
In 2013 the UCI also considered reducing all secondary stage races to five days to help eliminate overlapping stage races and to make events television-friendly.
Advocates for shortening the Giro argue it could allow more cyclists to race for both the Giro and Tour overall.
"Cycling's changed, I know, even I would say that I'm not in favour of it," Vegni continued.
>>> Teams to be restricted to seven riders per race, eight for Grand Tours
"But remember when the Giro used to finish in June, we moved it up, but it's not that more riders are racing the Giro and Tour now. Maybe it's less.
"If they can show the validity, we can consider it, but it'd have to be for the Tour too, otherwise it's as if all of the races are modifiable but the French ones!"
Thank you for reading 20 articles this month* Join now for unlimited access
Enjoy your first month for just £1 / $1 / €1
*Read 5 free articles per month without a subscription
Join now for unlimited access
Try first month for just £1 / $1 / €1