Ride a Grand Tour from your living room with Dig Deep Coaching and Zwift
The Dig Deep Coaching 'Three Week Grand Tour' mimics the efforts and intensity of Tour de France stages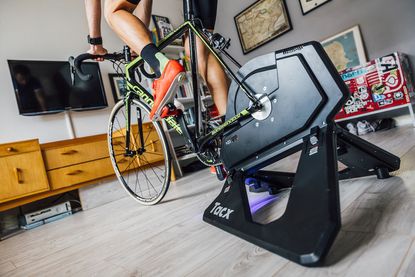 (Image credit: chris catchole)
Whilst the male pro peloton is preparing to ride 3,351 kilometres through France (and a bit of Spain) most of us at home have little hope of covering a fraction of that distance in the coming weeks.
However, in a bid to give amateurs a taste of a pro rider's experience at the Tour de France, Dig Deep Coaching company has devised three weeks of home training sessions designed to mimic each of the stages, starting from Saturday July 7.
Each session will be between 45 and 90 minutes long and will be available as a group ride on indoor training platform Zwift.
Coaches at Dig Deep - the company set up by former pros Stephen Gallagher and Dan Fleeman - looked at athlete power data from previous editions of the race, to discover the approximate effort during critical times of each stage.
>>> How to use training software to hit peak form
They claim "you will be able to feel what it's like to attack on a punchy climb in Brittany, power over the cobbles of northern France and push your limits for long periods of time on Alpine climbs."
It might not be sunny in your living room, but you probably won't find Alpine climbs within your local loops either.
The virtually reproduced terrain on offer each day will directly mirror that of the stages outlined in the 2018 Tour de France route.
All of the efforts will be based on your current fitness, as a percentage of your FTP, and since many UK riders won't want to be spending all of July riding inside, you can choose to play pick'n'mix with the stages, instead of riding every one.
>>> Beginner's guide to indoor cycling
In an extra twist that's simply not available in reality, you'll have the chance to slip into a selection of personas - hiding out in the peloton as a sprinter aiming to put in a triumphant effort in the final metres, attacking from the gun as an early-breakaway and protecting your honour in the GC-rider role.
Start times of each stage will vary by time zone, and will be announced via Dig Deep's social media channels. Signing up in advance will give you access to a race manual which details stage lengths, intensities and efforts as well as a 'survival guide' to help you prepare.
Thank you for reading 20 articles this month* Join now for unlimited access
Enjoy your first month for just £1 / $1 / €1
*Read 5 free articles per month without a subscription
Join now for unlimited access
Try first month for just £1 / $1 / €1