Road Rage: Cars v Bikes: BBC programme presents alarming portrait in rehashed debate
The BBC's latest Panorama documentary packs a shocking punch in road safety argument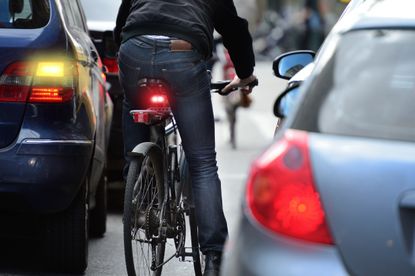 (Image credit: Getty)
'Road Rage: Cars v Bikes' offers a chilling, though at moments disappointing, look at the tensions surrounding cycling on British roads.
You can trust Cycling Weekly. Our team of experts put in hard miles testing cycling tech and will always share honest, unbiased advice to help you choose. Find out more about how we test.
"On every ride I go on, one or two drivers will put my life on the line," says cyclist and documentary maker Richard Bilton in the opening minutes of BBC Panorama's 'Road Rage: Cars v Bikes'.
In the broadcaster's latest half-hour documentary, Bilton travels south from his home in North Yorkshire to the bustling city of London, raising important questions about the safety of cyclists on Britain's roads. He meets with frustrated lorry drivers, victims of car collisions and cycling ambassadors, seeking to capture the public mood towards those on bikes.
The results, it turns out, are rather shocking. The film opens with a montage of on-bike footage that will make you wince and draw back in your seat. They're scenes that most cyclists will already be familiar with, but are still no less distressing to see. "I've killed one of you guys before and seriously injured another one," one driver says, "and I got away with it."
The on-bike footage returns as a constant motif between Bilton's interviews. One figure who features prominently is newspaper columnist Rod Liddle, who once wrote in The Sunday Times that he finds it "tempting" to "tie piano wire at neck height across the road" to catch cyclists in his neighbourhood.
Despite Liddle's gripes, the documentary's focus is firmly on the need to create a safe environment for cyclists. The central message is that, in a country that supposedly put £2 billion aside for cycling infrastructure, drivers should be comfortable sharing space with vulnerable road users.
The documentary's most powerful moment comes in an interview with the widows of two cyclists who were killed by a driver when riding together. "He's taken two amazing people from the world and I hope he understands that," one of the women says. The motorist was given a suspended sentence, banned from driving for five years and fined.
This, it seems, is where the real issue lies. Though many drivers feel the Highway Code favours cyclists, allowing them to ride two abreast or occupy the centre of the road, the law often fails to protect those on two wheels. Many cyclists will find it chilling that a killer could walk out of court so scot-free.
Equally as alarming are the statistics that flash up on the screen throughout the documentary. Perhaps the most shocking of which is that one in four motorists admit to having "knowingly" driven too close to cyclists.
Where the documentary falls short is its framing of simple road safety matters as a culture war between drivers and cyclists. Though this likely stems from the BBC's commitment to impartiality, pitting the two against each other risks further dividing them. After all, these are not binary groups. Many people who ride bikes also drive cars, and vice versa.
Bilton concludes by saying: "There's so much conflict between cars and bikes. And I can't see the government's vision of a cycling UK becoming real until that changes."
Still, it's unlikely that rehashing the argument will help either.
'Road Rage: Cars v Bikes' will be broadcast on BBC One this evening at 8pm and is available to watch now on iPlayer.
Thank you for reading 20 articles this month* Join now for unlimited access
Enjoy your first month for just £1 / $1 / €1
*Read 5 free articles per month without a subscription
Join now for unlimited access
Try first month for just £1 / $1 / €1