Russia next stop after Tour of Beijing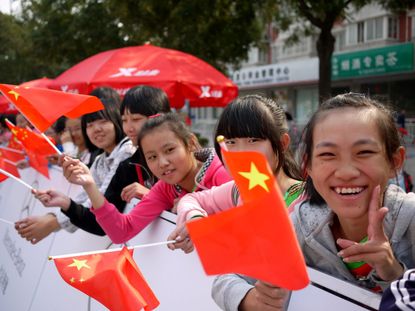 Russia will likely be cycling's next stop in 2013 or in 2014 after the Tour of Beijing's debut this week. The race organiser, Global Cycling Promotion is encouraged to push ahead after China.
Global Cycling Promotion (GCP) director, Alain Rumpf explained that Russia is the next likely location for a new stage race.
"At the moment, it's the most advanced project," Rumpf said, "but other ones could progress fast."
For years, the Union Cycliste Internationale (UCI) hoped to see a top-level tour in China. Planning of the Tour of Beijing, however, only truly started in the summer of 2010 via the GCP.
Today, the 18 WorldTour teams and a Chinese team raced stage three north of Beijing, by the Great Wall to Yong Ning. Rumpf explained that racing in the BRIC countries - Brazil, Russia, India and China - is exactly how GCP wants to help globalise cycling.
"It's a big challenge to bring a top peloton to another country. We want to do it in the best possible conditions, not take risks and fail," Rumpf explained.
Alain Rumpf: Globalisation of professional cycling
"For a project to be successful, you need the full support of the government. Because we had it [in Beijing] we were able to go for the WorldTour [ranking] in year one. There's a strong governmental support in Russia for sports, they would be behind a Russian WorldTour race."
Former professional and head of team Katusha, Andrei Tchmil, is in Beijing this week and will help GCP in Russia. The country came close to realising a top-level race in 2009 via the Tour of Sochi, but delayed it. It now looks ready for 2013 or 2014 in Sochi, home of the 2014 Winter Olympics.
St Petersburg and Moscow, said Rumpf, are also interested in hosting the tour.
Rumpf is the former manager of the UCI's ProTour, now called the WorldTour. He left his role in 2009 to head GCP. The race promoter works with the UCI, though legally, it is a separate entity.
"If we do a good job," Rumpf said, "any money left will be available for the UCI to use to develop cycling."
He said that "it's hard to say" how much GCP will earn from the Tour of Beijing. What is clear is that GCP will apply its Chinese lessons to Russia and beyond.
Related links
Tour of Beijing faces smog and police
Thank you for reading 20 articles this month* Join now for unlimited access
Enjoy your first month for just £1 / $1 / €1
*Read 5 free articles per month without a subscription
Join now for unlimited access
Try first month for just £1 / $1 / €1