Schleck and Sagan crash ahead of Ardennes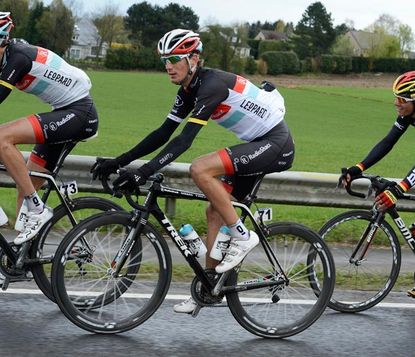 Favourites for the Ardennes Classics, Andy Schleck (RadioShack-Nissan) and Peter Sagan (Liquigas-Cannondale) crashed in the Brabantse Pijl yesterday.
"Three guys crashed in front of me so I couldn't avoid it at all," Schleck said in a press release. The day was a mixed bag with intermittent rain, cold temperatures and the sun poking through every so often.
"When it's raining we all know to put the team in a good position all day to avoid crashes, so we did that. I wasn't in the back."
Schleck hurt his hand in the crash with 70 kilometres to race.
"The doctor said if my hand still hurts tomorrow [today - ed.], I should have it x-rayed but I feel confident that there isn't a problem."
Sagan crashed with 28 kilometres to race while corning on a downhill. He slid on his right side and hit a curb.
"This race helps to refine the legs ahead of Amstel Gold, and a crash is the last thing we wanted," Liquigas sports director, Stefano Zanatta said. "Right off, it seems that there's nothing more than scrapes and bruises."
Both riders abandoned the race recover ahead of Sunday's Amstel Gold race. Schleck is building towards the Ardennes week, one of his two main goals this season with the Tour de France. Sagan is coming off a hot streak, which includes several top 10s: 4th Milan-San Remo, 2nd Ghent-Wevelgem and fifth Tour of Flanders.
Boonen skips Amstel Gold
Tom Boonen (Omega Pharma-QuickStep) decided yesterday to skip the Amstel Gold Race. The decision, which he said is due to a tendon problem in his foot, comes after his wins in the Tour of Flanders and Paris-Roubaix.
"It's a problem that I have since Paris-Nice," Boonen said in a press release. "The vibrations on the cobblestones on Sunday have worsened it. Nothing serious but it's better to stop and rest."
He is expected to return top form ahead of the Belgian national championships, the Tour de France and Olympics.
After his wins, he leads in CQ Ranking:
1. Tom Boonen (Omega Pharma-QuickStep) 1438
2. Vincenzo Nibali (Liquigas-Cannondale) 726
3. Simon Gerrans (GreenEdge) 711
4. Samuel Sánchez (Euskaltel-Euskadi) 708
Pozzato Roubaix tactics questioned
Former professional, Roger De Vlaeminck questioned Filippo Pozzato's tactics in Paris-Roubaix on Sunday. The Italian was at the front when Tom Boonen attacked for his eventual win at 56 kilometres out. With his win, Boonen equalled De Vlaeminck's record of four wins.
"Tom had no opposition," De Vlaeminck told Belgian newspaper, Het Nieuwsblad. "They were not second- but third-rate rivals. Take Pozzato: If you want to win then in the last hundred kilometres you shouldn't let Boonen have one centimetre. A sad affair."
Pozzato (Farnese Vini) crashed with 50.8 kilometres remaining and abandoned about 20 kilometres later. He said of Boonen's attack, "It was matter of seconds. I didn't follow immediately, but there were three BMC and four Sky riders also in the group."
He, Alessandro Ballan (BMC Racing) and Sébastien Turgot (Europcar) had a gap ahead of the others when Boonen and team-mate Niki Terpstra went free.
Guesdon retires
Frédéric Guesdon retired in the Paris-Roubaix velodrome, 15 years after winning the race in 1997.
"I had hoped to make an impact, but I leave a little disappointed," Guesdon said in the velodrome. "Retirement? It'll take some time for it to sink in."
The 40-year-old Frenchman crashed and punctured, but placed 88th, 18'52" behind Boonen. After 17 years as a pro, he plans to become a sports director.
Mantova investigation spotlights Omega Pharma doctor
Italy's Mantova doping investigation is focusing on Omega Pharma doctor, José Ibarguren, according to La Gazzetta dello Sport. The Italian sports daily reported yesterday that of the 31 possibly facing trial, the Spanish doctor has attracted considerable attention.
The preliminary investigation centred on team Lampre and Guido Nigrelli's pharmacy in Mantova. Team staff reportedly encouraged their riders to visit Nigrelli for prohibited products in 2008 and 2009.
Ibarguren worked with Omega Pharma for the last three years, this year with Boonen and in the past with Philippe Gilbert. Prosecutor Antonio Condorelli focused on his years with Lampre from 2002 to 2004 (Raimondas Rumsas case), Euskaltel 2005 (Iñigo Landaluze), Saunier Duval 2007-2008 (Iban Mayo, Leonardo Piepoli, Riccardo Riccò) and Fuji in 2009.
The investigation's documents highlight a conversation on April 15, 2009, between the doctor and Nigrelli. According to the conversation in La Gazzetta, Ibarguren hid drugs, including testosterone, in his home. "I want something! Not a lot because [Team Manager Mauro] Gianetti doesn't want...," said Ibarguren. "What you gave me for the Vuelta I kept at home."
He asked Nigrelli to ship the order to his home along with a copy of the invoice.
The 31 who may face trial, starting July 13
Alessandro Ballan (BMC Racing)
Marco Bandiera (Omega Pharma-QuickStep)
Emanuele Bindi (Meridiana Kamen)
Paolo Bossoni (retired, was with Lampre)
Marzio Bruseghin (Movistar)
Pietro Caucchioli (retired, was with Lampre)
Damiano Cunego (Lampre-ISD)
Mauro Da Dalto (Liquigas-Cannondale)
Francesco Gavazzi (Astana)
Sebastian Gilmozzi (MTB)
Mirco Lorenzetto (retired, Lampre-Astana)
Manuele Mori (Lampre-ISD)
Massimiliano Mori (retired, was with Lampre)
Mariano Piccoli (retired, was with Lampre)
Daniele Pietropolli (Lampre-ISD)
Simone Ponzi (Astana)
Michael Rasmussen (Christina Watches - Onfone)
Mauro Santambrogio (BMC Racing)
Francesco Tomei (retired, was with Lampre)
Giuseppe Saronni (Lampre General Manager)
Fabrizio Bontempi (Lampre DS)
Maurizio Piovani (Lampre DS)
Guido Nigrelli ('Barba', owner of the pharmacy)
Sergio Gelati (doc, Nigrelli's main helper)
Fiorenzo Bonazzi (doc, worked with Nigrelli)
Fabio Della Torre (Lampre masseur)
José Ibarguren Taus (Omega Pharma doc)
Nicola Castrini (mtb, accused of dealing for Nigrelli)
Roberto Messina (accused of dealing for Nigrelli)
Paolo Pezzini (physical therapist with Lampre, accused of dealing for Nigrelli)
Matteo Zambroni (footballer, accused of dealing for Nigrelli)
Thank you for reading 20 articles this month* Join now for unlimited access
Enjoy your first month for just £1 / $1 / €1
*Read 5 free articles per month without a subscription
Join now for unlimited access
Try first month for just £1 / $1 / €1