Scotland getting ready for 2011 Tour of Britain start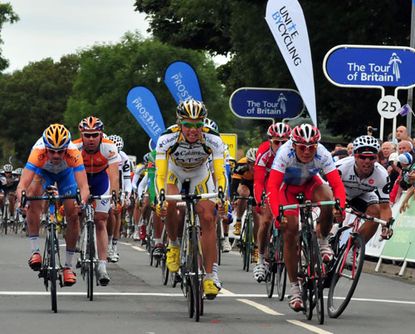 Scotland will host the opening stage of the 2011 Tour of Britain on Sunday September 11, and preparations are already well underway for the race's Grand Depart.
"Preparations for the Grand Depart are progressing very smoothly," said race organiser Mick Bennett. "And we, along with our partners at Event Scotland, Scottish Borders Council and Dumfries and Galloway Council, have a busy eight months ahead as we make all the preparations to ensure that Sunday September 11 is an unforgettable day for cycling in Scotland."
Paul Bush OBE, Chief Operating Office for Event Scotland added: "Scotland is ready to welcome the Tour of Britain back over the border in September.
"There is a real buzz in the country at present around cycling after Scotland's success in Delhi and ahead of London 2012 and the Commonwealth Games in Glasgow in 2014. It is great to have such an exciting and successful event on our doorstep for the wider community to support and get involved with."
Full details of the exact route of the opening stage - and all other stages of the eight-day race - will be officially unveiled in the spring.
It will be the second time that the current incarnation of the Tour of Britain has visited the Scottish borders after Peebles hosted stage three in 2009.
Earlier this month, Event Scotland confirmed that it was in talks with Tour de France director Christian Prudhomme about the possibility of the country hosting the Tour de France Grand Depart in 2017.
Last week, Tour of Britain organisers announced that the newly-formed Leopard-Trek team will be taking part in this year's race.
Related links
Scotland bids to host 2017 Tour de France start
Leopard-Trek sign up for 2011 Tour of Britain
Thank you for reading 20 articles this month* Join now for unlimited access
Enjoy your first month for just £1 / $1 / €1
*Read 5 free articles per month without a subscription
Join now for unlimited access
Try first month for just £1 / $1 / €1