Sir Bradley Wiggins formally knighted by Queen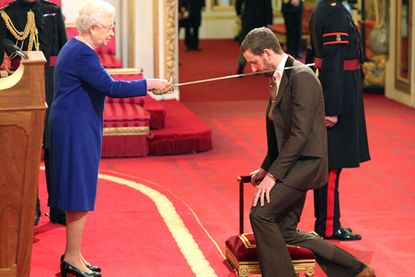 (Image credit: PA Images)
Sir Bradley Wiggins was formally knighted
by the Queen during an investiture ceremony at Buckingham Palace on Tuesday morning.
Sir Bradley was named in the Queen's 2013 New Year Honours list after winning a gold medal in the London 2012 Olympic Games time trial and becoming the first British rider to win the Tour de France.
"I've won a bike race, you know, and I feel a little bit inferior to everyone, really," Sir Bradley said after the ceremony, which he admitted that he found 'humbling'.
"It was quite nerve-wracking actually. I'm still shaking now, to be honest," he said. "I mean, it's quite humbling being here.
"I was just talking to some of the other people getting stuff, and asking them what they've been honoured for, and they're historic things, ground-breaking sciences or whatever."
Those interested in Sir Bradley's satorial side will have noted his exquisitely tailored brown suit and tan brown shoes. Gone was the trademark 'mod' haircut and sideburns, replaced with a more flattened, cropped cut and trimmed beard.
Thank you for reading 20 articles this month* Join now for unlimited access
Enjoy your first month for just £1 / $1 / €1
*Read 5 free articles per month without a subscription
Join now for unlimited access
Try first month for just £1 / $1 / €1