Strava replaces Premium service with three stages of 'Summit' packages
Training, Safety and Analysis packages tailored to suit user's needs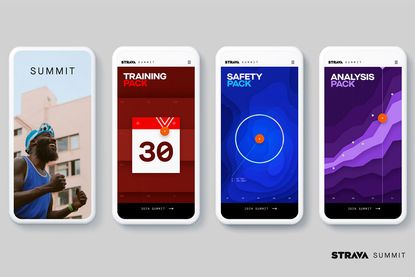 Strava has announced the replacement of its 'Premium' membership with a trio of tailored offerings designed to better suit users.
The athlete's social media site - which currently sees 25 activities uploaded every second and 15.3 million every week - is striving to offer so much more than a platform to deliver the 3 billion kudos' thrown around between riders and runners each year.
The packages on offer are geared towards 'Training', 'Analysis' and 'Safety' - though there's nothing stopping you opting in to all three and Premium members will be able to continue enjoying the features they already have at the same price.
"Summit Packs are designed to better tailor and personalize our features to members' needs. Whether your goal is returning from injury or training for your first marathon, Summit Packs provide the performance tools you need along the way," says James Quarles, CEO of Strava.
The packages come under the umbrella title 'Summit' services with charges from £2.49 a month.
What are the packages and what do you get with each?
Summit Training Pack
Provides tools to help athletes - whether preparing for a race or just getting in better shape - to train smarter.
Features include:
Training plans
Real time GPS tracking for smartphones
Custom goals by time, distance, power or segment
Race analysis to break down pace fluctuations and splits
Filtered leaderboards by age and weight
Breakdowns of KOM/QOM and PR attempts on athletes' favourite Strava segments
Summit Analysis Pack
Helps riders to deep dive into performance data from connected devices. The app works with all GPS devices plus heart-rate monitors and power meters which use Bluetooth LE. There's insights into:
Workout analysis, to visualise time spent in zones,
Lap data
'Fitness and Freshness' info to help you track when it's time to rest
Live segments and power analysis to assess performance and fitness
'Relative Effort' to help riders train consistently
Summit Safety Pack
Enables riders to explore new roads and trails, maintaining peace of mind thanks to:
Security from Beacon - real time tracking so friends and family can see where you are at all time
Personal Heatmaps, to help people stay safe when exploring, too
How much do they all cost?
Annual membership to all three Summit packs cost £47.99, or £18.99 for individual packs.
Monthly memberships start at £2.49 per pack, or £6.99 for all three.
Current Strava Premium athletes can keep accessing all the current features for the same price - £44.99 a year or £5.99 a month.
The change means that those who want all three packs will be paying a little bit more than they would pay for Premium. However, it also means that if you want just one or two packages, you don't need to pay for added features you don't want.
We expect that most 'Training' members are going to want 'Analysis', too - but it's good news for anyone who just wants the 'Safety' features such as Heatmaps and Beacon.
There's more information at strava.com/summit.
Thank you for reading 20 articles this month* Join now for unlimited access
Enjoy your first month for just £1 / $1 / €1
*Read 5 free articles per month without a subscription
Join now for unlimited access
Try first month for just £1 / $1 / €1