The Sufferfest introduces new strength training videos for cyclists
The inventors of classics like 'Blender' and 'The Hunted' have launched a selection of strength training plans, so you can hurt your body in new ways, quicker (not really - they'll make you stronger)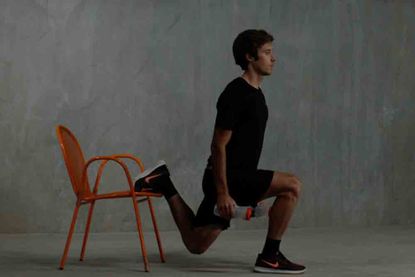 Not content with thrashing riders through intense sessions with fearsome names - such as 'The Wretched', 'The Hunted' and 'Long Scream' -the indoor cycling app creators at The Sufferfest have broadened their offering to incorporate strength sessions.
The Sufferfest has a reputation for its tongue in cheek sense of humour - punishing narratives, references to molten lava, chamois dances and crowing anyone who manages to complete 10 videos back-to-back a 'Knight of Sufferlandria'.
>>> The Sufferfest app: all you need to know
However, that doesn't mean to say that it doesn't take training and exercise physiology very seriously. The sessions depicted by the laugh-(scream-or-cry)-out-loud videos are written by experts Neal Henderson and Mac Cassin at APEX Coaching. Individual workouts can be tied into tailored training plans - and now those training plans can include strength sessions too.
>>> Can you improve on your weaknesses?
Strength training is a great way for cyclists to improve their power on the bike, reduce injury and the amount of fatigue felt over long rides as the core becomes a stronger base for the legs to push from.
The new series of 22 videos incorporates 97 exercises, each explained step-by-step and written into a progressive schedule that develops in difficulty week by week.
https://www.youtube.com/watch?v=tUxVZbuZsuc
Riders can choose between a beginner or intermediate plan, the latter of which is suitable for those who take part in off-the-bike exercise regularly already.
Exercises will start with basic movements: the plank, hip hinges, squat variations, back extensions and push-up, progressing to include modifications like shoulder presses, single-leg stability, and rotations.
The bodyweight (read: no equipment needed) exercises within the plans are built into sessions which range from just 12 minutes to 45 minutes - and have been designed to suit time crunched riders.
Admittedly, water bottle dumbells as pictured won't create the burn some riders are looking for in the off-season, and those looking to ramp it up with weights will probably need to book in at a gym with actual equipment or invest a little more heavily.
Strength sessions aren't the last of it from the founders of IWBMATTKYT (look it up), we're promised new treats for 'Sufferlandrians' dropping in the coming months, just in time for a very smashy Christmas...
Thank you for reading 5 articles this month* Join now for unlimited access
Enjoy your first month for just £1 / $1 / €1
*Read 5 free articles per month without a subscription
Join now for unlimited access
Try first month for just £1 / $1 / €1