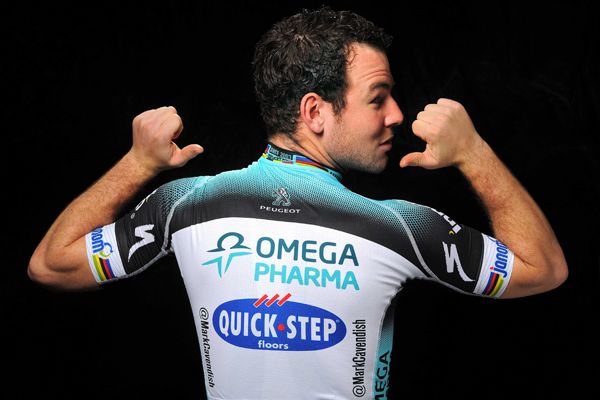 Teams are rolling out their new kit as the season edges closer, so it's time for CW to kickstart our annual appraisal of the top cycling squads' clothing.
We're going to get all Gok Wan (Wikipedia reference for non-British readers or those that don't watch trashy daytime TV) on the top squad's clobber, giving our highly honest opinion on each strip as they surface.
We also invite you to comment and rate each team's kit. Which is your favourite? And which wouldn't you be seen dead in? Let us know in the comment box below...
Cannondale Pro Cycling
Liquigas may have drifted off as lead sponsor, but the Italian team has retained the bottled gas company's distinctive lime green of previous years in its new incarnation as Cannondale Pro Cycling. The jersey features a barcode-like strips running down the stomach and stripes on the flanks. The lime green might be just about excusable for shorts, but the real question is whether the team will go back to green full-length tights in colder races. Frog legs.
Sky
Let's start with British-based Team Sky and its latest kit designed by Rapha rather than Adidas, as in previous years. Minimalist is the word - it's a plain black front with a very Rapha single blue band around the left arm. The black continues on the back with a strip of blue running from the neck to the waist. Questions have been raised about the dark kit's performance in hot weather - commencing very soon at the Tour Down Under in Australia's high summer. Will the team swelter in Adelaide? Or will their performance prompt everyone to rush out and buy a £140 Sky pro team jersey at their local outlet?
Omega Pharma-QuickStep
After just one year at Sky, Mark Cavendish has switched to Belgian squad Omega Pharma-QuickStep for 2013 and here he is wearing Tom Boonen's stuff. The team has built on a classic and clean design that steers well clear of Euro fluoro horridness and sensibly sticks with (mainly) black shorts. There's a bit of clever fading in and out of the blue and black around the shoulders, but the colours remain the same as 2012. None of that will stop Cav wanting to swap it for a green outfit in July.
Garmin-Sharp
We had to get the magnifying glass out for this one. Garmin-Sharp "revealed" its new jersey last week, but we struggled to detect any difference between this and the pre-2012 Tour de France outfit when Sharp came on board as second sponsor. The Castelli and WorldTour logos have switched sides - and apparently there's a bit more Argyle on the back. We say: If if ain't broke...
Movistar
Brit time trial ace Alex Dowsett is seen here modelling the Movistar kit after switching to the Spanish squad for 2013. The team has, of course, kept the large looks-like-a-bogey 'M' of title sponsor Movistar in the centre of the jersey, which is black all over rather than last year's dark blue. They've removed the white lines from the right shoulder, the white collar and white stripe at the sides this season too, giving a much cleaner look. Like Sky's, this dark kit could get hot in the summer.
Great Britain
We've slipped the radically overhauled Great Britain cycling team strip in here among the trade teams because it's caused quite a stir. Gone is the very red and very blue old kit, and in comes a Union Flag-inspired outfit. Most have given it the thumbs up, though there's still a debate raging as to whether the flag is the wrong way around. And it doesn't actually say 'Great Britain' either, putting Sky's logos in pride of place instead. Otherwise, all good.
To be continued...