'Terrible news for US cycling fans': GCN+ users react to news service is closing
Streaming service and app due to shut down on 19 December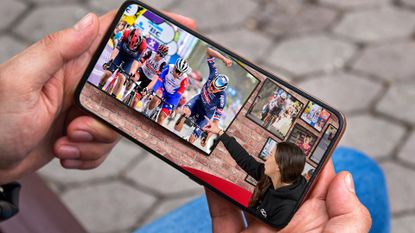 (Image credit: GCN+)
The news that GCN+ would be closing caused shockwaves among cycling fans on Wednesday.
The streaming service and app was well liked and used across the world as an way of watching bike racing from the biggest events like the Tour de France and the Classics to more minor events like the Tour of Britain and rounds of the Superprestige cyclo-cross competition. There is also a library of over 200 films about cycling, on topics as varied as cycling in Africa and the story of Andrea Tafi.
However, on Wednesday, a message to subscribers said that it was set to close on 19 December: "This follows Warner Bros. Discovery's broader strategy to consolidate its streaming services to provide customers with all the sports they love in one place, alongside the widest range of entertainment content, seeking to provide extended value to subscribers and everyone in their household."
The website and YouTube channels will continue to run as GCN.
European fans will need to return to watching racing on Eurosport or discovery+, which includes ads, and there's no direct plan in place for viewers across the rest of the world, many of whom used the GCN+ as their primary race viewing platform.
A message on Eurosport read: "In territories where discovery+ is available - including Austria, Denmark, Finland, Germany, Italy, Sweden, the Netherlands, Norway, the UK & Ireland - GCN+ subscribers can view all live coverage on discovery+ and continue to enjoy all cycling races they currently watch on GCN+. They will also have access to Eurosport's full rights portfolio and the widest range of Warner Bros. Discovery entertainment content."
All that was said for the rest of the world was: "In markets outside of Europe, Warner Bros. Discovery is working with local partners to ensure cycling fans can continue to access live race coverage."
On social media, people reacted with sorrow to the news that the streaming service would be no more, especially those from outside of Europe, who will still be able to access the racing, just with a different subscription.
"The closure of GCN+ might be annoying for us Europeans, more importantly it's also basically closing off the sport to anyone not from our continent which will have a dramatic impact in it's [sic] popularity," one person wrote on X (formerly known as Twitter). "What's the point of a Netflix docu[mentary] for the US if nobody can watch the sport??"
As one American commented: "Yeah that's a big loss for the US cycling fans. The price and amount of racing was unmatched and easy to access. I wonder what's next for us? Hopefully not going back to FloSports again."
Another said: "This sucks! as an American, was a fantastic window to the world of cycling and a huge catalyst to getting me back into the sport. So ****ing bummed." While a further American user wrote: "Warner Bros. nuking GCN+ is terrible news for US cycling fans, coverage was unprecedented."
It is not just the USA. A Japanese fan said: "Going to be hit hard in Japan, JSport has only a few races, overall they are pretty bad. For CX they only have the Men's World cup races. VPN + Youtube does a better job."
The cycling blogger The Inner Ring wrote: "One reason GCN+ has been great because it was near seamless worldwide, fans in Europe, US, Japan, India, Brazil etc could watch same live racing, subscribers could cross borders and keep watching, including in their preferred language... & it was priced to build an audience too."
The news was also greeted with sadness on Cycling Weekly's Facebook page, where one person wrote: "Would have gladly paid twice as much for the app. Great team of presenters and unbelievable content. What am I going to watch now on my trainer throughout winter?"
Sadly, as from the middle of December, GCN+ will not provide the distraction we have all enjoyed over the past couple of years. This correspondent is off to find out how he can watch cyclo-cross over the Christmas period.
My view - CW's North American editor Anne-Marije Rook
This news is a big disappointment for North American cycling fans to wake up to. It's not easy being a cycling fan in this part of the world.
It actually takes a lot of dedication and money. The time zone difference often means 4 a.m. wake-ups to watch the races live – if you've managed to find a reliable livestream, that is.
Most North American cycling fans will be familiar with the constant scramble to find coverage. You're either paying for every available subscription service out there or installing a host of risky VPNs and perusing steephill.tv hoping to find a stream that works, even if that means that you're listening to commentators rattle on in a language you don't know.
This current lack of a unified broadcasting and licensing strategy does absolutely nothing to maintain, let alone grow, the sport's fanbase beyond Europe.
For a while here, GCN+ provided a reprieve from the viewing struggles. While geo-restrictions meant North American fans were still paying for both a GCN+ and a VPN subscription, at least there was a steady availability of live racing. It even had English language commentary, providing an engaging viewing experience.
The loss of this viewing service will land hard here in North America as the desperate search for live racing coverage continues…
Thank you for reading 20 articles this month* Join now for unlimited access
Enjoy your first month for just £1 / $1 / €1
*Read 5 free articles per month without a subscription
Join now for unlimited access
Try first month for just £1 / $1 / €1