The Lance Armstrong confession concludes: Part two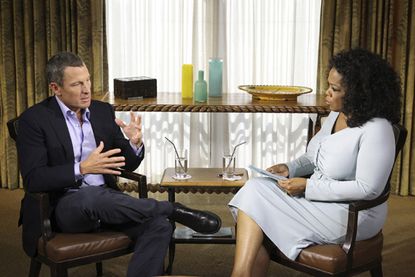 Twenty-four hours after part one of Lance Armstrong's 'tell-all' interview with talk-show host Oprah Winfrey, the second, and concluding, part of the interview was beamed to the world. And while the rest of that world had made use of that time to ingest and digest, there had been no rest for the wicked as Armstrong faced Winfrey in an interview conducted in its entirety on Monday January 14. For everyone involved, though, it was on with the show.
The media - both social and traditional - had buzzed with the news of Armstrong's confession in the aftermath of all those 'yes' answers.
It was a little ironic, then, that it was social media, Armstrong revealed, that had pushed him over the edge - to take it upon himself to speak out about having doped.
"I want to tell you what happened - when this all really started," Armstrong told Winfrey. "I saw my son defending me, and saying, 'That's [that Armstrong doped] not true - what you're saying about my dad is not true.'"
That was the moment, it seemed, when everything - all of this: the doping, the interview, the revelation of the doping in the interview - hit home, and for the first time Armstrong lost what had up until then been an almost matter-of-fact way of recounting his story.
"And it almost goes to this question of why now..." Armstrong continued, then paused. "He can't ..."
This time, the Texan fell silent. He began welling up. He managed a further 'yeah', and then - for the first time - Winfrey did what she should have been doing much more often all along: she just waited.
"That's when I knew I had to tell him," Armstrong eventually offered, close to breaking down completely. More silence followed, punctuated by the sighs of a seemingly beaten man.
This time, Winfrey spoke up, pressing him: "What did you say to him?
"At that time, I didn't say anything, but that's the time I knew I had to say something," Armstrong said. "It took other kids on Instagram, replying... You know - it gets ugly. And then at that point, I decided, 'I have to say something - this is out of control.' And then I had to have that talk, which was this year over the holidays."
He told Winfrey that he told his three eldest children, who he'd had with his ex-wife, Kristin, that he'd doped - that the stories they'd heard about their father were true.
"They didn't say much," said Armstrong. "They just accepted it. I told Luke, I said..."
This time there were tears in his eyes, and he paused, held his thumb and forefinger to the bridge of his nose, and sighed once more.
"I said don't defend me any more," Armstrong said, biting his thumb nail. "Don't."
Winfrey asked if his eldest child had shown any defiance, anger, or disappointment.
"Thank God, he's more like Kristin than he is like me," came the reply.
Kristin came up often in this second part of the interview - a second half arguably much more heartfelt on Armstrong's behalf.
Who knows in what order the interview was edited, but it was done skillfully enough, it seemed, that the hard, win-at-all-costs Armstrong, who had garnered little to no sympathy following the first transmission, then hit viewers with everything he - and Winfrey - had for the concluding show, filled much more with talk of emotions, how other people might have felt, and the revelation that Armstrong has been having therapy.
Kristin became one of the central 'characters' of the story; Winfrey would later use some of Armstrong's ex-wife's wise words to end the show.
"She's a smart lady, extremely spiritual. She believes in honesty, integrity and the truth," Armstrong said of Kristin after Winfrey asked whether anyone had encouraged him to tell the truth. "She believes that the truth will set you free.
"I saw her at the kids' game two days ago, and I said, 'If this comes up, can I talk about this?' And she said yes," Armstrong continued, and revealed that she was the person he consulted when considering his comeback to professional cycling in 2009.
"I figured, 'If I'm going to do this [come back] - it was a big decision - I'm going to need her blessing.' And she said to me: 'You can do it, under one condition: that you never cross that line again.' I said: 'You've got a deal.' And I would never have betrayed that with her."
That Armstrong had supposedly not cheated during his 2009-2010 comeback had attracted some of the most attention in the wake of the first half of the interview, and here it was being reiterated. He even went as far as to say that he'd expected to win that comeback Tour de France in 2009.
"I didn't expect to get third - I expected to win, like I always do. And at the end I said to myself, 'You know, I just got beat by two guys that are better [Alberto Contador and Andy Schleck].'"
It would be difficult, however, for anyone to have felt much sympathy, just as it was when Armstrong told Winfrey how he felt hard done by to have been banned from all sanctioned sport for life (when his ex-team-mates - the whistleblowers - had only received six-month bans), and about how much money he stood to have lost in the aftermath of major sponsors such as Nike, Giro and Oakley dropping him.
"It's an epic story," Winfrey finished by telling him. "What's the moral of this story?"
Armstrong blustered about not having a great answer, then managed to formulate one: "For me, it was about that ride and about losing myself, and getting caught up in that, and doing all of those things along the way..."
"I hope the moral of this story is what Kristin told you in 2009," said Winfrey, wresting control back from Armstrong for the big finish. "That the truth will set you free."
"Yeah - she continues to tell me that," he said.
Related links
Lance Armstrong opens up to Oprah: Part one
Thank you for reading 20 articles this month* Join now for unlimited access
Enjoy your first month for just £1 / $1 / €1
*Read 5 free articles per month without a subscription
Join now for unlimited access
Try first month for just £1 / $1 / €1