The 'Met Gala of US Track Cycling' draws stars and dignitaries in support of the sport's youth
Star Track is an intersection of cycling legends, luminaries and policymakers from all corners of the cycling world, united in a singular focus of a successful tomorrow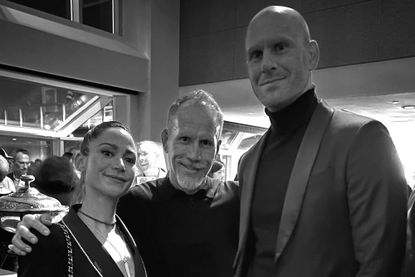 (Image credit: Christopher Schwenker)
American cycling legends, luminaries and policymakers from all aspects of cycling swapped their usual spandex cycling kit for glamorous suits and dresses as they gathered in New York City for the 20th Anniversary Star Track Benefit on November 13.
Star Track is a zero-barrier urban outreach program that introduces kids to the fundamentals of track cycling. Now in its twentieth year, the USA Cycling Center of Excellence puts 200 eight to 16-year-old inner-city kids on bikes each semester, completely free.
The organization has helped place 40 National Championship jerseys on the backs of racers who wouldn't have had the chance without Star Track's dedication and the vision of its founder, Masters World Champion and Olympian, Deirdre Murphy Bader.
"It's not only the nation's foremost youth development program, it's the model of genuine community engagement and support that all the organizations in the country look to," said USA Cycling CEO & President Brendan Quirk when asked to describe what Star Track had done for American competitive cycling.
Chief of Sports Performance Jim Miller, Chief Marketing Officer Erika Lehman, and other influential members of the USAC executive team joined Quirk in support of the grass-roots organization's anniversary.
The subtle sophistication of the Current at Chelsea Piers, overlooking the Hudson River on New York City's west side, was a poignant backdrop for an event of this magnitude and gathering 200 supporters. Former British Pro and dynamic commentator Matt Stephens served as the evening's emcee, adding a relatable charm to the heartfelt show of solidarity.
Emerging talents such as Stephanie Torres, a multiple US National Collegiate Champion, and Josh Hartman, a Star Track graduate and US Elite National gold-medal winner in the team sprint, are making their mark on the US and international racing scene.
Riley Sheehan, a 23-year-old American pro who graduated from a Star Track-like program, emphasized the profound influence of community engagement on a niche sport like cycling.
"Having a group of friends to discuss bike racing with from a young age significantly impacted my career," he said.
The Boulder-born cyclist became the first American racer to win the Paris-Tours classic as a stagiaire for Israel - Premier Tech and was on hand for the event.
American track cycling superstar Jennifer Valente echoed the sentiment, sharing her humble beginning in a free youth program in California at eight years old. During the following eighteen years, she became the 2016 Olympic silver medalist, four-time UCI World Champion and nine-time World Championship medalist. She consistently podiums at every UCI Track World Cup since 2016, excelling in six different track disciplines. Her crowning achievement was winning the Olympic Champion title in the Women's Omnium at the Tokyo 2020 Olympics.
Star Track executive team members Pete Taylor and Gregory Olsen proudly highlighted the organization's ethnic diversity and 50/50 gender parity as they invited other influential figures from the female cycling scene to sit alongside Valente on stage.
Nicola Cramner, the transformative founder of the groundbreaking all-women's team, Virginia's Blue Ridge Twenty24, and her breakthrough athlete, Laurel Quinones, shared their experience as women cyclists in a once male-dominated sport.
Kristen Kulchinsky, the American cycling esports champion representing Team Twenty24, enhanced the event's inclusivity and acceptance of all cycling disciplines by providing her perspective on the intersection of virtual and real-world cycling.
Kate Veronneau, the Director of Content and Women's Strategy at Zwift epitomizes the connection as the driving force behind the Tour de France Femmes avec Zwift.
"It's what this night is about, and that's an opportunity," explained Veronneau, "for athletes to excel, be seen, be supported, and discover what they can do."
Zwift's commitment to the Tour de France Femmes marked a significant shift in women's cycling, and coupled with the admirable support for youth development in New York City, is the reason Star Track chose to honor Eric Min as the special guest for the event.
Min, the co-founder and co-CEO of Zwift, grew up in New York City and experienced the uplifting power of the underground cycling scene firsthand from age thirteen. He shared the relatable stories of sleeping in his youth team kit to avoid being late to the early 3 a.m. races in Central and Prospect Park.
"Not enough people know the life-changing work these organizations do for kids and the sport of cycling," Min pleaded.
The audience of wide-eyed pre-teen Star Track cycling students all decked out in their cycling gear are fortunate for the opportunity and the support of cycling stars and luminaries. They eagerly absorbed each word from their idols on the stage, hanging on to every anecdote and learning opportunity as they do with their coaches on the track.
If youth development is the lifeblood of the sport, then Star Track has mainlined an artery of mainstream cycling talent, past, present, and future. Look for more youth development program grads when the Olympics come to our home soil in LA in 2028. Until then, the Star Track volunteers and supporters will be working tirelessly to ensure that bikes change more kids' lives.
Thank you for reading 20 articles this month* Join now for unlimited access
Enjoy your first month for just £1 / $1 / €1
*Read 5 free articles per month without a subscription
Join now for unlimited access
Try first month for just £1 / $1 / €1