Thomas on track for Paris-Nice prologue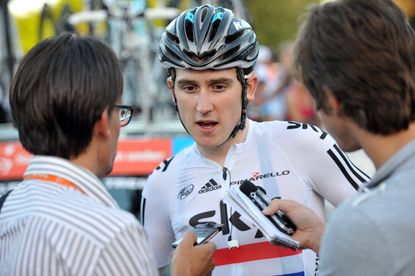 Team Sky's Geraint Thomas is racing towards the Paris-Nice in March. The Welshman wants to win the prologue and eventually pave the way to a similar win in the Tour de France.
"I don't see why not," he said of Paris-Nice's eight-kilometre opener. "It is all about going through the right process and building up to it right."
The prologue takes place in Montfort l'Amaury (west of Paris) on March 7 and starts the week-long stage race to Nice.
"It is quite a technical prologue at the end of the day. A lot of people think that it is something where you can just go flat out, but there are corners, windy sections..." added Thomas. "It is going through that whole process, hopefully I will get a good result out of it because there are other prologues for the future, like the Tour de France."
Thomas, despite rainy conditions, placed fifth behind winner Fabian Cancellara at the Tour's prologue last year. The prologue and an impressive ride over the cobbles three days later, put Thomas within grasp of the yellow jersey. During stage seven, he wore the virtual maillot jaune.
Prior to dreaming about leader's jerseys, though, Thomas will ride the track at the Manchester World Cup in preparation for the 2012 London Olympics.
"The Tour Down Under is a great place to start the season and makes for ideal preparation with my track goals coming up."
Thomas races the World Cup in Manchester February 18 to 20. He returns to the road with the British team at the Tour of Sardinia afterwards. Thomas will change back into Sky's jersey for the remainder of the season, for Paris-Nice, the Classics and beyond.
"I got to keep riding the track a little bit, you can't just step off and then come back two years later, expecting to pick up where you left off. I still want to ride the road, I am just doing that World Cup, and that's it," added Thomas.
"It will be great preparation for the Paris-Nice prologue. It is all fast, punchy. It will work pretty well."
Last year, Thomas finished 15th in the prologue behind Lars Boom.
Related links
Sky's Thomas keeping covered Down Under
Geraint Thomas: Ride Profile
Thank you for reading 20 articles this month* Join now for unlimited access
Enjoy your first month for just £1 / $1 / €1
*Read 5 free articles per month without a subscription
Join now for unlimited access
Try first month for just £1 / $1 / €1