To Canada, in search of (Gluten-free) Belgian Waffles: a review of the inaugural BWR BC gravel race
The Belgian Waffle Ride is a gravel race, but one with a lot of tarmac. It gets two enthusiastic thumbs up, here's why.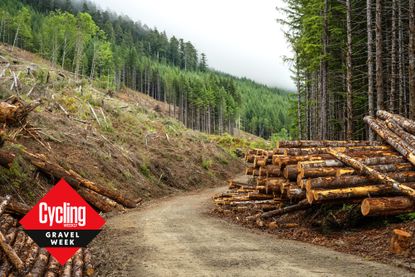 (Image credit: Getty Images)
Inspired by the Belgian classics races, the Belgian Waffle Ride started in 2011 in San Diego County, California. It has since become one of the so-called Monuments of Gravel, and is part of a series featuring seven different events across North America. The original —BWR CA, as it is now known— features a mix of road and gravel sections and can be raced on a standard road bike. I hopped across the border to see what the more rugged, inaugural BWR BC has in store.
Belgian Waffle Ride BC, a ride report
I raced the Wafer distance (half of the 220km Waffle) at the inaugural Canadian event on Vancouver Island in British Columbia, BWR BC, which features significantly more rugged terrain.
The race began with a neutral start behind a motocross bike. We rolled out under the start/finish gantry onto paved, rolling hills leading us into the mountains around Duncan, BC.
Our group, starting 15 minutes after the Waffle ride, was large, comprising some 200 participants, and nervous. As the first running of the event, no one knew quite what to expect, and few racers I spoke with knew the surrounding area well—most came from other parts of Vancouver Island or the mainland.
Plenty of people were happy to work on the front, so I found a good spot in the top 20 and tried to stay out of trouble. Around kilometer 15, we turned off the road onto a twisting singletrack climb. Here, it started to feel like a race: any mistake or hesitation from the rider in front was a chance to move up, and any misstep of your own resulted in, at the very least, a pointed comment from riders behind.
The climb continued onto a double track section, allowing for the group to naturally separate as the front of the race thinned out. I made it over the top in a group of six or seven other riders, and we started to work together, but a long paved descent allowed the larger group behind to catch back on.
At this point we were already working our way through groups of Waffle riders who had begun ahead of us and were pacing their efforts for a race twice the distance. Groups continued to mix and join, with each climb or dirt section forcing a selection between racers as our lead group moved its way through the race.
The second significant climb of the day began 10 kilometers later. It was longer and much harder, with steep pitches of bumpy double track. I watched a lead group of four ride away. Unwilling to go quite so deep this early in the day, I rode my own tempo and tried to keep them in sight.
A fun singletrack section spit us out at the first feed, where I pulled over to fill a bottle. Apparently this was a mistake, as I was the only one who stopped and the group I'd just left behind was now in front of me, and I was chasing solo.
I caught the tail end of the group as we entered the next dirt sector, and worked my way through the field on singletrack like an XC racer until we were back onto paved roads again. I found myself in a strong group of four off the front with a large mixed group behind.
This would be our race for most of the day—swapping pulls and dragging ourselves through the Waffle mix, trying to catch up to the four leaders on the road ahead of us. Occasionally we'd sit in a larger group and rest for a few minutes before the next little climb sifted our quartet out again.
On the course profile, the middle section of the race looked to be flat, but this turned out not to be the case. It was constant, rolling hills, some of them significant. The 110 k/68 mile Wafer course advertised an elevation gain of 1500 meters, but the real number was closer to 2100 meters, or around 7000 vertical feet of climbing. The final elevation tally for the full Waffle course was also significantly more than advertised.
The equipment conundrum
Something that makes the Belgian Waffle Rides unique is the mixture of both singletrack and paved roads. While it is a gravel race, it's one with a lot of tarmac. This made for some difficult decisions, equipment-wise.
Most riders were on drop bar gravel bikes with semi-slick or knobby tires between 38-42 mm. Some tread was helpful, though everything was rideable on slicks. I opted for knobby 42s, preferring the safety of wider tires on the technical parts over the speed of a narrower tire on pavement, as I correctly assumed that group dynamics would be more important on those sections. I was happy with my tire selection throughout the day and had no issues whatsoever. I wouldn't want to ride the course with anything smaller than 38mm tires, and might even consider testing out front suspension of some kind for the rugged descents.
I rode a 2x setup with 50/34 chainrings and an 11-34 cassette, which proved inadequate. Though I appreciated having both chainrings on the road, I needed much lower gears for off-road climbing and suffered as a result. A clutched 1x setup would have been ideal for the enduro/trail single track sections, but these were brief.
Equipment choices are one of the things that makes gravel racing interesting: there may not be as many tactics playing out on the road, but technical decisions about gearing, tires, and feeds play a more significant role. Both 1x and 2x setups offer benefits and drawbacks on a course like this, and such elements make an impact on the outcome of the race.
The course
The race course was made up of four different loops which intersected one another in the Cowichan valley, akin to a four-leaf clover in shape. The Wafer course only rode three of them.
One interesting course feature was the series of culverts underneath the highway which are part of the local trail network and allow for easy crossing points. This worked well to keep riders from needing to get over open highways, as well as adding in the element of dismounting and remounting several times.
Eventually our group of four caught up with a strong group of Waffle racers, and we took the opportunity to take a breather and regroup briefly, with the final major climb of the day looming. This group was riding strongly—several of them would go on to finish in the top 25% of their race—and it was a nice surprise to see some familiar Seattle faces.
The groups split again when we reached the course turn off—they went to do the big southerly clover leaf loop and we headed into the last big climb of the day. On the run-in we picked up one of the four racers in front of us, now making us a group of five, racing for fourth place.
At this point I was running out of food and water, having planned to stop at some of the aid stations, and started missing turns at the front. I was saved from complete collapse by a volunteer at the final feed stop handing up bottles like a seasoned World Tour soigneur, and I drank what I could, and managed to choke down my last calories—my emergency energy bar and a 5 year old expired powdered drink mix (meant to be added to water) that I poured straight into my mouth and chewed like sand.
The final climb was a mix of steep and rugged sections interspersed with gentle rollers, averaging 6% for 10 km. I knew I would be immediately gapped off on the lower slopes, but was happy to go at my own pace and try to hang on for a top 10. One of the other riders flatted near the bottom, which brought our number back to four.
Once the grade kicked in, I let the wheels go and tried to keep my wattage consistent. My lower back was in rough shape from pushing too much gear and every bump and jostle threatened to cause it to seize up.
I got passed by two other racers during the ascent, but they weren't going much faster so I knew I'd have a chance to catch them again on the way down. At this point I was concerned I was going to lose my spot in the top 10, but couldn't push any deeper and maintained my tempo as much as possible.
When I reached the top, I hoped for a chance to recover, but the road went straight into a pedally downhill, where I knew if I could push I would make up time on those ahead of me. I put my head down and shifted into the big ring.
The descent was long, fast and rough. Some of the high speed straights had big water bars that threatened to buck me off the bike, and I had to be careful to manage the pressure on the brakes so as not to overheat the rotors.
These aren't nicely graded logging roads —they're fire roads: straight up and straight down— and with very little traffic on them they're in rough shape. This was my opportunity to catch the front of the race again, so I went full speed and hoped I wouldn't flat or crash. I went by one racer at almost twice his speed, and passed another shortly afterwards, hitting speeds well above 50 kph on rugged, potholed roads in tricky, dappled light.
It was a relief when the course turned off the fire roads and onto a steep, washed out mountain bike trail where even though I had to use every skill I possessed not to go over the bars, I no longer had to worry about a catastrophic, high-speed wreck. Signs posted on the trail first gently suggested dismounting, then strongly recommended it, but I was too fatigued to get off my bike so just held on and rode it out.
The final section was short. We dropped down to cross a set of railroad tracks, then followed a steep uphill trail back onto roughly cut primitive trails that led back to the event grounds where we'd begun, and I rolled across the line, relieved, third in my age group and seventh overall.
First impressions
I came away quite impressed with the event. Vancouver Island is a world-class cycling locale and one I look forward to going back to and exploring more, hopefully with the opportunity to look around and enjoy the views next time. The Exhibition Park was a perfect venue for the race; it had ample parking, clean facilities and a good layout for hosting a race with the accompanying vendors and booths.
Everything about the race was well-run. The course markings were very good —the only times we had issues were when we were going too fast and overshot a turn—and all road crossings had marshals stopping traffic and directing us.
I'm a fan of middle-distance gravel events for a bunch of reasons: they're more accessible for most riders who don't have time to train 10+ hours a week, and you can have actual fun during the race, riding hard and racing with competitors over 3-5 hours instead of being on your bike for 9+ hours (or more, see Unbound 350) and struggling just to complete the distance.
For many of us, the constraints of jobs, family and other commitments mean that training time is limited, and racing shorter events makes more sense as a result. It's great that the option exists to race longer and challenge yourself on the same course as professional riders, but I'm happy to race and train within the time I have available. I do enjoy long adventure rides with friends, but I like to be able to stop where and when we want to and change our course if we come across an interesting looking trail.
I'd give the event two enthusiastic thumbs up, and hope to compete in other BWR events in the future. Maybe next time they'll offer a gluten-free option, so I can sample a pre-race waffle!
Stats!
Belgian Waffle Ride BC
Waffle: 220 km/2600 (advertised) meters of climbing
Wafer: 108 km/1530 (advertised) meters of climbing
Wanna: 52 km/550 (advertised) meters of climbing
Total event participants: ~900
Weather: Dry, sunny. 11 degrees C at the start, 20 degrees C at the finish
Bike ridden: Breadwinner B-Road, custom
Gearing: 50/34 chainrings, 11-34 cassette
Tires: Rene Herse 700 x 42 Hurricane Ridge TC (tubeless) knobbies, standard casing.
Thank you for reading 20 articles this month* Join now for unlimited access
Enjoy your first month for just £1 / $1 / €1
*Read 5 free articles per month without a subscription
Join now for unlimited access
Try first month for just £1 / $1 / €1