Tour de France 2024: single Alpine start and finish earmarked in route reports
Valloire finish on stage four strongly suggests an appointment with the Galibier, while St Jean de Maurienne also included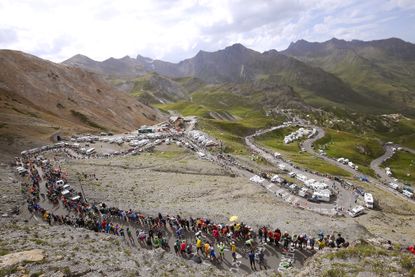 (Image credit: LB / Tim de Waele / Getty Images)
Stage four of the Tour de France will finish at the foot of the Col du Galibier, with stage five beginning the next day in Saint Jean de Maurienne, just down the road, reports France Bleu.
These, says the French outlet, are the only start and finish towns located in the Alps this year – adding that there will be no visit to the Haute Savoie as there was this year with finishes in Morzine and St Gervais Mont Blanc.
With the official Tour de France route announcement coming in three weeks' time in Paris on 25 October, the route — which starts in Florence, Italy on Saturday 29 June, and finishes in Nice on Sunday 21 July – is slowly being pieced together.
The Col du Galibier has long been rumoured to be making an appearance in the race, and what amounts to an unofficial confirmation of the Valloire finish – which lies in the valley between the cols du Télégraphe and Galibier – only goes to strengthen this.
More credible pointers suggest start town of this stage will be Pinerolo in Italy – which would place the Galibier directly between the riders and the finish.
There seem to be few clues as to where the race might head from its start in St Jean de Maurienne the following day, but if France Bleu's statement that there will only be one finish in the Alps suggests it will head out of the area. Reports on Velowire refer to the French outlet Le Progres, which suggest the finish could be in Saint-Vulbas or Ambérieu-en-Bugey near Lyon.
Details of stage nine were also announced this week by the French L'Est Eclair outlet was a stage set to start and finish in the city of Troyes in the east of France, which will take in white gravel road sections. The Tour has previous here, with last year's Tour de France Femmes also using gravel roads in the area.
In terms of stages that have been officially confirmed, stage one, which crosses Italy from Florence to Rimini, will be a mountainous affair of 205km. Stage two begins in nearby Cesanatico and heads north-west to Bologna over 200km and is peppered with small hills. Stage three from Piacenzo to Turin, not far from the French border, is long at 225km and one for the sprinters.
At the other end of the race, the final two stages are much shorter. Stage 20 is a tough day out over several medium-sized passes, finishing at the top of the Col de Couillole in the Alpes-Maritimes, while the final stage maintains the jeopardy – unlike the traditional Champs-Elysées outing, with a hilly 35km time trial that finishes in Nice.
The relatively early finish – 21 July – and indeed its Nice location, allows for a moment of breathing space before the Paris Olympic Games begins on the Friday.
Thank you for reading 20 articles this month* Join now for unlimited access
Enjoy your first month for just £1 / $1 / €1
*Read 5 free articles per month without a subscription
Join now for unlimited access
Try first month for just £1 / $1 / €1