Tour of Britain put out to tender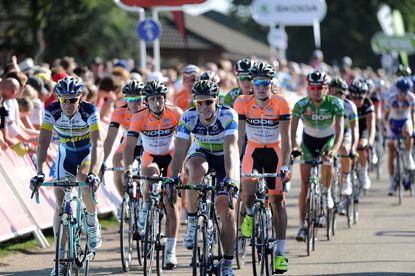 British Cycling today announced that the running of the Tour of Britain will be put out to an open tender from 2014.
The news will comes as a blow to SweetSpot, who have organised the event since its return to the calendar in 2004.
However, it is likely to be of interest to Tour de France organiser ASO. Earlier this year it was in the running to be chosen as the delivery partner for the London Olympic legacy event (ironically won by SweetSpot and the London Marathon group), and has previously been interested in organising the Tour of Britain.
British Cycling President Brian Cookson said: "It's important that we take a fresh look at how the Tour of Britain can deliver continued growth and profile for the sport.
"Sweetspot has nurtured and developed the event over recent years but the time is now right to assess all options. Most crucially, we want to assure our current and future members and all cycling fans that we will have their interests at heart throughout this process and we look forward to further developing an event that reflects the current status of our sport in this country."
SweetSpot will deliver next year's race - scheduled for September 15-22 - and in a statement it confirmed its intention to participate in the bidding process.
A statement released by the sports event and marketing company this morning read: "SweetSpot Group would like to express their surprise and disappointment at the decision by British Cycling to seek expressions of interest to tender for the right to organise The Tour of Britain from 2014 onwards.
"SweetSpot fully intend to participate in this process, and retain the right to organise and promote Britain's biggest professional road race from 2014 onwards, especially given the continued growth and unparalled success of the event under their ten-year stewardship.
"In order to protect the interests of cycling fans across the UK, SweetSpot initiated the revival of The Tour in 2004 and they based their plans on a sustainable model to insulate the event from the vagaries of the sponsorship marketplace. This action has been vindicated by the consistent growth and increased profile of the event, despite having to endure one of the worst recessions in living memory."
The invitation to tender will officially be launched in January. The process will be managed on behalf of British Cycling by London-based The Sports Consultancy group.
Thank you for reading 20 articles this month* Join now for unlimited access
Enjoy your first month for just £1 / $1 / €1
*Read 5 free articles per month without a subscription
Join now for unlimited access
Try first month for just £1 / $1 / €1