Is the new Trek Emonda ALR set to make aluminium cool again?
The newest iteration of the Trek Emonda ALR is said to offer lightweight performance at competitive prices and it looks very good indeed. Is aluminium on its way back?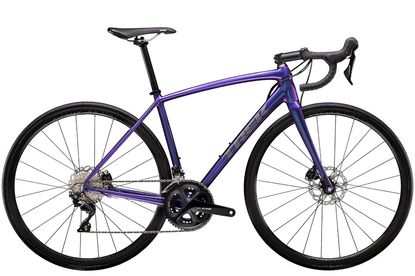 Aluminium has always been a great option for those looking for lightweight performance at a reasonable price.
Plenty of companies already offer great alloy frames but has any made its aluminium bikes look as good as the newest version of the Trek Emonda ALR?
Trek has called its new Emonda ALR "lightweight aluminium perfection" and says it aims to deliver sleek looks and ride quality that can rival more expensive carbon offerings - and weight wise the newest Trek Emonda ALR is competitive.
>>> The best aluminium road bikes
For a size 56cm the rim brake version weighs 1112g. The disc version - which I got to ride on the launch in the US a few months back - weighs 1131g for the frame and Trek claim the Emonda ALR is one of, if not the, lightest aluminium bike on the market.
Part of this weight saving is down to what Trek claims is its most optimised structure ever, which via hydroforming, has allowed the Trek engineers to manipulate, stretch and design complex shapes from the 300 series Alpha aluminium.
This itself is said to offer great ride quality as well as a strong structure and a carbon-like aesthetic. It also means that each tube can fit to its neighbour perfectly, resulting in less material being required around the welds - thus saving weight without losing strength at the joins.
Trek call this "Invisible Weld Technology" and it ultimately increases the surface area of the frame which adds to strength and cuts down weight.
Look at this purple piece of perfection (called purple flip) up close and you can really see that Trek has done a stella job at making the Trek Emonda ALR as close as an aluminium can be to looking like carbon.
Options with Trek Emonda ALR
Trek is giving the consumer options and offers both rim and disc brakes as it does with its new Trek Madone SLR, which against the industry flow continues to offer all brake types.
It also has male and female models on offer. The bikes are only different in terms of touch points and the frame stays exactly the same following the most recent research which suggests bike sizing is determined by height and weight rather than gender.
>>> Is female specific geometry still relevant in 2018?
The geometry is based on Trek's H2 formula which is a more relaxed fit. It basically means the front of the bike is slightly higher in a more endurance style. H1 is more aggressive and racier, and can be found on the Emonda SLR, the top end carbon version of the bike raced by the pros.
Trek Emonda ALR: the ride
I got to ride the Emonda ALR 5 disc for 60 or so kilometers around Trek's home in Waterloo, Wisconsin. On relatively well paved roads on a very warm summer's evening the bike performed amazingly well and did one thing that I look for an aluminium bike: that is to not to ride like an aluminium bike.
Against some of the worst sections of the ride the Trek Emonda ALR soaked up the road buzz very well with hardly any of that broken surface vibrating through the handlebar or saddle.
What was good on the ride was how light on its feet the ALR felt and it was a joy to ride. It was a relatively flat route but it had a few rises over a total of 600 metres.
It was hard to determine how rapid the handling was on that one loop, the roads where wide and nothing technical was approached so much more testing will be required to determine the bike's overall ride.
However, with the H2 geometry being on the more relaxed side of things in Trek's books it would seem that this machine might not be one for the thrill seekers out there - but only time will tell if I'm wrong with that statement.
Ultimately though the Trek Emonda ALR is so far a great bike for those looking to get a ride on the well equipped machine. For an aluminium bike it feels assured and comfortable which is one thing that this material in particular can struggle with.
Trek seem to have got this right with the Emonda ALR, is this aluminium making a strong comeback once again? It seems so.
Available Émonda ALR models:
Émonda ALR 5 Disc
Émonda ALR 5 Disc Women's
Émonda ALR 5
Émonda ALR 4 Disc
Émonda ALR 4
Émonda ALR Disc Frameset
Émonda ALR Frameset
Thank you for reading 20 articles this month* Join now for unlimited access
Enjoy your first month for just £1 / $1 / €1
*Read 5 free articles per month without a subscription
Join now for unlimited access
Try first month for just £1 / $1 / €1