USA Cycling unveils step-by-step pathway for hopefuls wishing to race for Team USA
The Athlete Development Pathway is meant to serve as a clearly defined funnel to international success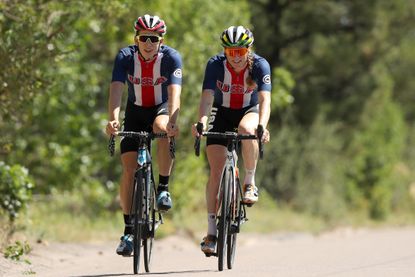 (Image credit: Getty Images)
The American cycling governing body, USA Cycling, today unveiled its Athlete Development Pathway (ADP), a clearly defined, step-by-step process for those wishing to race for Team USA.
Based on previous pilot programs like the Olympic Development Academy, ADP is focused on development and meant to educate athletes and parents alike about the opportunities available to them on their journey from local results to international achievement.
The idea is that young athletes can enter the pathway at any level and at any point during their racing career and find a place that will help them progress. Each level of the pathway is designed to provide pertinent education and development opportunities for an athlete to be best equipped to further their career to the next level.
Available for both road and mountain bike racing, the pathway consists of four steps: Day Camps, Talent Identifiers, Regional Camps, the Team USA Development Team and European Race Camps.
The journey starts with day camps, which will launch in the fall of 2023 in conjunction with local junior events to provide basic coaching and education for athletes and parents about development and race opportunities.
Talent identification will be done, in part, with the introduction of a power profile submission tool. To be discovered by USA Cycling, athletes ages 15 through 30 can opt to connect their TrainingPeaks account with that of a USA Cycling Talent ID coach.
Regional Camps have been a successful tool in the past and will make their post-COVID return this coming season. At these camps aspiring junior cyclists will receive the same coaching as elite athletes, and may be identified for further race opportunities with USA Cycling.
And as the final step in the process, European Race Camps will give those with WorldTour aspirations an opportunity to race in the epicenter of cycling. For a three-week block athletes will train under the guidance of top coaches and experience iconic races and courses. An immersive experience, the education includes all the foundations of elite competition including strength training, skills, nutrition, tactics, sports psychology and more.
Registration for some of the camps are now open, but these camps do come with a fee, ranging between $1,350 for some regional camps to $4,500 plus airfare for the European racing experience. USA Cycling tells us that some scholarships will be available for those in need. Learn more at https://usacycling.org/team-usa/athlete-development-pathway
Thank you for reading 10 articles this month* Join now for unlimited access
Enjoy your first month for just £1 / $1 / €1
*Read 5 free articles per month without a subscription
Join now for unlimited access
Try first month for just £1 / $1 / €1
Cycling Weekly's North American Editor, Anne-Marije Rook is old school. She holds a degree in journalism and started out as a newspaper reporter — in print! She can even be seen bringing a pen and notepad to the press conference.
Originally from The Netherlands, she grew up a bike commuter and didn't find bike racing until her early twenties when living in Seattle, Washington. Strengthened by the many miles spent darting around Seattle's hilly streets on a steel single speed, Rook's progression in the sport was a quick one. As she competed at the elite level, her journalism career followed, and soon she became a full-time cycling journalist. She's now been a cycling journalist for 11 years.