USA to bid for 2015 World Championships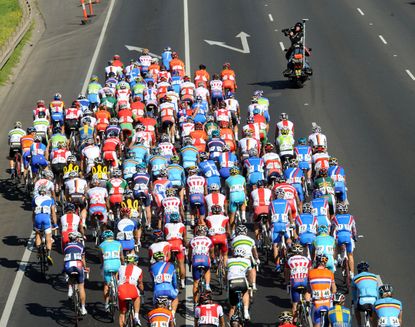 The USA aims to host the World Championships for the first time since Italy's Moreno Argentin won the 1986 edition in Colorado Springs. The city of Richmond, Virginia, is expected to announce its bid for the 2015 edition at a press conference on Tuesday.
"An international cycling event of this calibre has not been held in the US for almost 25 years," said USA cycling in a press release yesterday.
"Mayor Dwight C. Jones' commitment to making Richmond a world class city will be showcased during a very important announcement. This cycling announcement will officially launch the city of Richmond's bid to host an international cycling event."
Ireland's Darach McQuaid, brother of the UCI President Pat McQuaid, is in Richmond and is said to be organising the proposed Worlds. His company Shadetree Sports has offices in Dublin and Richmond. It organised the Tour of Ireland last year, won by Brit Russell Downing
The International Cycling Union (UCI) said it wants to organise its top event outside of Europe in 2015. Richmond will face competition from Québec. The city's mayor, Régis Labeaume, spoke with the UCI about its bid in February. Canada last hosted the last World Championships held in North America, 2003 in Hamilton.
The UCI will award the 2015 World Championships to the host city at the 2012 race. It awarded Florence the 2013 edition on September 29 at this year's race in Geelong, Australia.
Norwegian Thor Hushovd won the elite men's road race. In the time trials, Britain's Emma Pooley won gold and David Millar took silver behind four-time winner Fabian Cancellara of Switzerland.
Host/candidate cities:
2010 Geelong, Australia
2011 Copenhagen, Denmark
2012 Limburg Provence, The Netherlands
2013 Florence, Italy
2014 Belgium and France
2015 Québec, Canada; Richmond, USA
Belgium's cities Hooglede-Gits and Namur are both interested in hosting the 2014 edition. France is also reported to be preparing a bid. The UCI will decide by next year's World Championships in Copenhagen, September 19 to 25.
The first edition took place in July 1927 at the Nürburgring in Germany. Italian Alfredo Binda won.
Thank you for reading 20 articles this month* Join now for unlimited access
Enjoy your first month for just £1 / $1 / €1
*Read 5 free articles per month without a subscription
Join now for unlimited access
Try first month for just £1 / $1 / €1