Vaughters denies that Garmin team riders will be suspended by USADA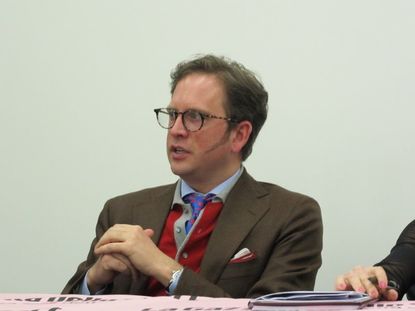 Garmin-Sharp team boss Jonathan Vaughters delivered a statement to the assembled media at the Tour de France on Thursday morning dismissing claims that any of the team's riders had been served a suspension for their part in the USADA doping investigation centring on Lance Armstrong and his former teams.
Dutch news outlet De Telegraaf published a report first-thing on Thursday morning stating that Garmin-Sharp riders David Zabriskie and Christian Vande Velde - and possibly former pro Vaughters himself - would be suspended by the United Stated Anti-Doping Agency (USADA) for six months after admitting to doping during their time on the same team(s) as seven-time Tour de France winner Armstrong.
In mid-June, USADA served Armstrong with a 15-page charging letter alleging that blood samples collected from the Texan during 2009 and 2010 were "fully consistent with blood manipulation including EPO use and/or blood transfusions". USADA's allegations were the result of the testimony of 10 witnesses. USADA filed charges against Armstrong at the end of June.
Vaughters' statement was subsequently released by Slipstream Sports, owner of the Garmin-Sharp team: "Our sole focus is on Slipstream Sports. We created Slipstream because we wanted to create a team where cyclists could compete 100 per cent clean.
"It is an organization built on the core values of honesty, fairness and optimism. Slipstream is built on the belief in our ability to contribute to changing the sport's future through a persistent commitment to the present.
"As we have always said, we expect that anyone in our organization who is contacted by any anti-doping or government authority will be open and honest with that authority but at this moment, we - our organization, our riders and our staff - are focused on the Tour de France.
"We won our first Grand Tour in May and to achieve similar success here, we need to focus on that. We can confirm that our Tour team is entirely focused on the Tour and media reports of suspensions are untrue."
BMC Racing's George Hincapie and Omega Pharma-QuickStep's Levi Leipheimer were also named in the De Telegraaf report as admitting to doping during the investigation, and due to receive a six-month ban. All four riders had withdrawn their names from being considered for selection to compete for the USA in the London 2012 Olympic Games.
Both Leipheimer and Hincapie were greeted by the press as they made their way from their respective team buses to the start of Thursday's stage of the Tour de France. Hincapie said he was just focused on riding the Tour and that he was "disappointed this has been brought up once again".
According to the Telegraaf article, the four riders' six-month suspensions will commence at the end of the season, allowing them to compete in races until that point - including finishing the Tour de France and Vuelta a Espana.
Hincapie had already announced that he will retire from the sport immediately after the Tour de France.
Armstrong has strenuously denied the allegations made by USADA, branding them as "baseless and motivated by spite". Armstrong's former team manager Johan Bruyneel and several former team medical staff are also charged.
On Wednesday, Garmin-Sharp dismissed Dane Alex Rasmussen from the team for being handed an 18-month suspension for missing anti-doping tests.
Related links
Armstrong charged with doping offences
Garmin-Sharp terminate contract with Rasmussen
Armstrong banned from triathlons as new doping charge brought against him
Thank you for reading 20 articles this month* Join now for unlimited access
Enjoy your first month for just £1 / $1 / €1
*Read 5 free articles per month without a subscription
Join now for unlimited access
Try first month for just £1 / $1 / €1